$4.29 Double Shot Gingerbread Latte Therapy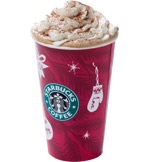 Did I tell you I love making resolutions? There is something about being able to forget the past year, or at least, feel that its done. Gone. A transition has occured. I am in a new place, where I can begin new. And I sit and review my past year, and plan my resolutions for the future. Before being a mom, this used to be a major ritual for me. I would sit for as much time as it would take, open a little journal I had, green, with pretty white flowers on climbing vines and write away. since I became a mom – not so easy. A few scribbles five minutes midnight.
This time, because of a dad-baby bonding expedition, I suddenly found myself with two hours to do whatever I liked. On new years eve. I couldnt believe it. The first 45 mins I spent at Publix, buying a few neccessities, rushing back to load the fridge. And then a feeling of pregnant freedom. I picked up my journal and headed over to Starbucks, ordered an extra shot Gingerbread latte and settled down to write. Unexpectedly I was overcome with emotion. Why did I let the little things get to me? Why did the fact that there are crumpled receipts on my kitchen counter, and dry cleaning tags on my vanity get to me so much? Why did that warrant stress? Well, this would be my first resolution. Not to let the little things get to me.  I know it would be tough, but I think I could do it.
I had not expected that to come up in my list. I want to lose weight, i want to write more. I want to do so many things as a mom. Those were the resolutions I wanted to right. But here was some deep down thought, stoked by the Gingerbread Latte, moving into my consciousness with bit back tears and scrawling letters. I spent a long time on that one – writing it out, thinking it out, purging it out. I suddenly knew my priorities, or at least my main resolution. $4.29 of cafe therapy.
I was relieved. Happy. I could sit back and write up the others. The organizing my house one. The reading more to my kids one. Even the lose 20lbs one. I felt clean. I knew it would work out. This is the best moment – when I know what I need, the new year is still a little away, and I have not broken any of my resolutions yet.
I drove back happy.
Last 5 posts by Amrita Bakshi