A Different Kind of Valentines Day Card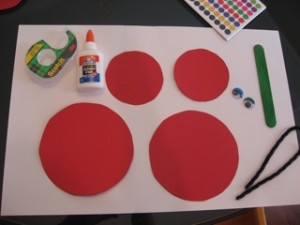 Valentine cards for a pre-schooler can be a challenge because they can't read yet and it's hard for most to address their cards.  Although candy is popular we all know what sugar can do not only to their teeth but their activity level.  I for one don't want to go to sleep at midnight because my son is to hopped up on candy.  Last year I searched for an alternative what card can be combined to be a toy.  When searching the net, I came across a puppet that you punch holes for the fingers.  I took the same concept but added a stick to a heart. My son helped by adding the googley eyes and it was a huge hit with his classmates.  This year, I decided to stray away from the typical valentine heart and create a ladybug puppet. Your children will love to help out creating this cute bug.  Make sure you have all your supplies ready and create an assembly line.
Red construction paper (Heavy preferred)
Jumbo popsicle sticks
Tape
Glue stick
Black crayon or marker
Googley Eyes
Pipe cleaners (black)
Optional: Circle stickers (black or variety of colors)
Most of the materials can be found at any school supply or craft store.
 Directions:
 Create a template on paper of two different size circles.  I used the bottom of an oatmeal container for my large circle and a cup for the smaller one.  You will need 2 large circles and 2 small ones for each ladybug.  Use the template to draw circles on your red construction paper and cut them out.
Your child can write their name on each large circle. This will be the back of the bug. I had my son add a heart sticker next to his name. I had to get the Valentine heart in there somewhere.
If your child can do it, have them draw a vertical line down the second large circle. They can draw dots on both sides with black crayon or marker. This will be the ladybugs wings. If your child is very young they can place circle stickers on the wings.
Take one black pipe cleaner and cut it in half. Bend each one so it looks like a bug antennae. Place the pipe cleaners on a small circle and tape them down. Place and tape the small circle half way into the large circle that your child wrote their name on.  Make sure the name is not on the side with the tape.
Tape a popsicle stick in the middle of this same large circle under.
Rub glue all over this large and small circle. Cover the tape and stick with glue.
Place the second small circle on top of the small circle with the antennas.
Place the large circle that has been decorated to look like wings on top of the large circle with the popsicle stick. Press down to adhere to glue.
Add the googley eyes to the head part of the ladybug.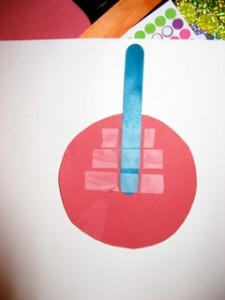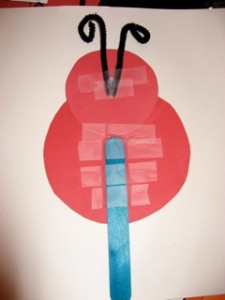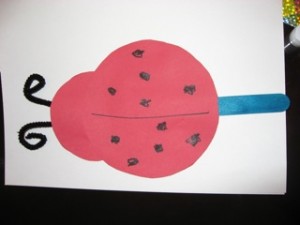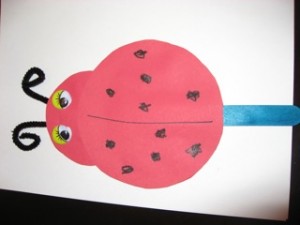 You may be wondering why you can just have one large and small circle. You very well can, but if you are making these for young preschoolers you want a sturdy puppet with limited access to the tape and pipe cleaners.  It would be too tempting for them to pull it apart. This same concept can be used to make a bumblebee.  While my son worked on his ladybugs he decided to create monster puppet too.  Mmmm….maybe next year.
I did end up making the monsters. See my follow up post here.
Last 5 posts by Suzie