A healthy halloween?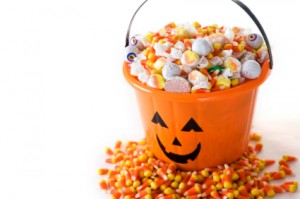 Is that an oxymoron? A HEALTHY HALLOWEEN? Well, over the years we have seen some creative things friends and neighbors have done. Do add your ideas so that we can all maybe take some steps to a healthy halloween! So heres for some healthy halloween tricks…
Healthy Halloween Treats: Here are some I have candy alternatives we have seen:Halloween Pencils, Goody bag fillers from Party City (such as erasers, etc), Balloons, hot chocolate pouches, dollar store goodies
Healthy Halloween House Rules: umm, not any about 'moms cant eat kids candies' please 🙂
Kids should pick up only one candy or treat per household
Eat only 1 -5 candies a day for 3 days after halloween
Take the excess candy to office, or donate it so that you or kids dont eat it all
Send the kids out on a full tummy so that they dont start snacking much on the goodies
Insist on tooth brushing or mouth rinsing after candies
Have kids share candies with siblings, guests etc
Keep the candy stash for other special occasions in the year in a special demarcated area
Healthy Halloween 2010 special: How germy are the candy bowls going to get! Swine flu and halloween, wouldnt that be some trick.
Send kids out with mittens in their costumes to avoid them touching candy bowls that may inadvertently have germs along with the treats
Apply sanitizer frequently while doing your rounds
Dont allow kids to eat on the rounds, only at home after washing hands
Discard all leftover candy from your own candy bowl after the hordes have rummaged
Of course, dont send out sick kids !
What are your ideas? Do add so that we can all have a safe and healthy halloween

best black friday deals
7 habits of highly effective people
capital auto auction
colon cancer symptoms
best noise cancelling headphones
Last 5 posts by Bloggermoms