Art Exhibition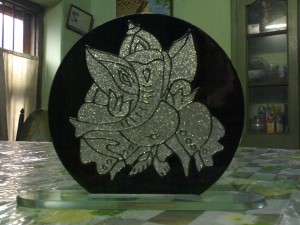 This is in response to the post of Art Exhibition – Glass Paintings by Malini….
First of all let me thank you all those who have appreciated my art work.
Believe me it's really tough to manage family, work and hobby side by side….though somehow I took out some time from the daily grind to hold my first exhibition.
It was a very small affair, arranged in the house of an ex-colleague of mine, who was very gracious to let me use the space for a whole evening.  The response was good….
Based on plain glass painting techniques, some of the items displayed were pencil / pen stand, napkin holder, visiting card holder, small & medium table top clocks as well as fancy wall hanging clocks. The technique can be applied to make various items like glass trays and even patterns can be made on glassware items like dinner sets and bowl sets etc.
There were some glitter works and I like to apply this type of technique to make various small artifacts on Ganesha.
The small items like table top clocks, pencil stand, visiting card holder and the beveled items were the ones most appreciated and sold.
Well I can only tell one thing, whoever came that day…went back home with a gift for someone…
Currently trying to utilize the spare time in making more items and hold another exhibition in the near future.
If you want to utilize your spare time and nurture your creativity, let me share with you the basic technique of glass paintings…
Take a plain glass piece (maybe 10×10 cm to start with) then place the design / pattern you want to draw like a flower or a bird, underneath the glass and sketch the design with the outliner provided in the pack of the glass painting colours.
Let it dry for a day and then apply colours within the outlined portion as per the design or your choice as applicable and let it be for another day and your glass painting is ready.
Its fun, you can try it out…………….
Here are some of my other artworks…..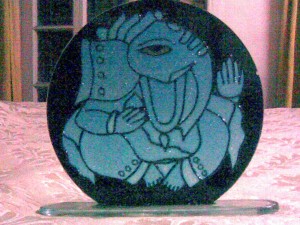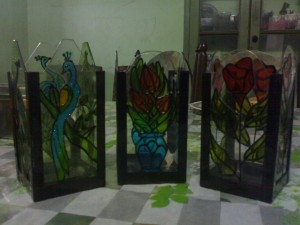 Last 5 posts by Malini