Breakfast for Kids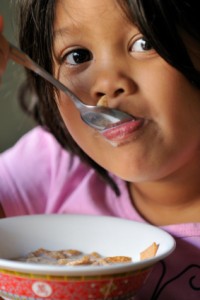 I was reading through an article today, wanted to share with you about  a simple thing but very important, that is about our kids.
Most parents have their complain regarding their kids' eating habit..
do not force foods on them, because they may have a feeling of scariness after moms gives food to eat,, be friendly,  when kids take their breakfast, parents can also have their breakfast at the same time, so they feel"" yes,"" this is the time we have to take our first meal and then we have to head towards the school.
Breakfast is the most important meal of the day for everyone, but it's even more important for growing children. A nutritious breakfast provides kids with the nutrients they need to be active in the morning. Since the eating habits that we develop as children tend to stay with us as adults, it's never too early to get a child in the habit of eating a good breakfast.
Why is breakfast so important?
A good first meal can help children stay alert in class. It's hard for children to concentrate when they are hungry. Breakfast provides kids with the nutrition and fuel they need to start their day off right. It provides the energy your child's brain can use to:
Concentrate and stay alert.
Solve problems and remember important information.
Be creative and imaginative.
Learn fundamental skills.
So even though mornings can be rushed, it is important to save time for breakfast.
Whole grain cereals, fruit or fruit juice and low-fat dairy products make a delicious and nutritious morning meal for kids. A good morning meal provides protein, carbohydrates, a little fat and some vitamin C. When choosing a cereal, check the ingredients and the Nutrition Facts on the package. Cereals that have a whole grain, such as "rolled oats" or "whole wheat" as the first ingredient, 2 grams or more of fiber per serving, no more than 3 grams of fat per serving and no more than 250 milligrams of sodium per serving are among the best choices.
Best of luck to all the parents in choosing their kids' healthy breakfast.
Last 5 posts by Sarmila