Breakfasts at breakneck speeds – No morning prep breakfast ideas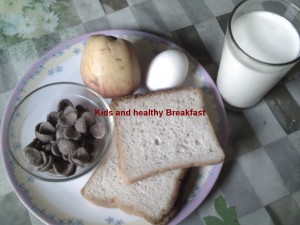 The power went off in the middle of the night and your alarm did not ring. The kids were too tired and couldnt get up on time. Some one spit up on someone esle and some had to change their dress. A morning meeting at the school or at work. Its just reality that there will be days when you will need breakfasts in a jiffy. My resort in these situations are granola bars or oatmeal to go bars.
Keeping with the theme of our breakfast event, Over the last week I asked some moms and here are their suggestions. Real life responses that work, especially if you are in a hurry to rush out to school or work.
Set your breakfast table the previous night – even add cereal to sealable containers or cover them with clingwrap, layout spoons and glasses. Then you can just add milk in the morning.
If the kids are too hungry, serve the first waffle frozen while you warm the others. Apparently hungry boys dont care.
Buy bagles on Sunday and freeze. Thaw a few mid week for a different treat. You need to thaw it the night before, though
Thaw some berries the night before. Just add yogurt and blend and serve it on the go.
If your kids eat boiled eggs, boil a few and keep some in reserve. Boiled eggs stay for a week, and is easy to serve.

Nothing wrong with whole wheat bread and milk with a chunk of cheese

Muffins, with stuffins….like applesauce etc made last evening while watching desperate housewives and then stored in an airtight containers

Idlis from before, reheated in micro
Alo check Yasmin and Sarmila's list as they have some super quick no prep ideas as well. What is your quick breakfast idea?
Last 5 posts by Khushi