Caramel Pudding and celebrating International Women's Day
International Women's Day is celebrated on 8 March. It is a day to celebrate womanhood and this date is commemorated at the United Nations. Women's Day stresses on the equality, justice, peace, development and enhancement for women globally and also remembers centuries-old struggle of women on equality with men in society.
To read more on International Women's day, click here.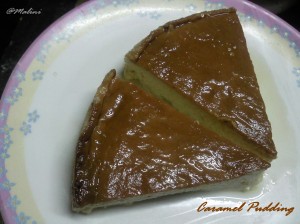 Wish you all a Happy Women's Day…and let's celebrate with this delicious Caramel Pudding……
Ingredients:
Full cream milk: 500 ml
Sugar: 4 tbsp
Cornflour: 2 tbsp
Eggs : 3
Vanilla essence : 1 tsp
Chocolate shavings, whipped cream (for garnishing)
Caramel coating
Sugar: 2 tsp; 2-3 tsp
Water
Procedure:
To make the caramel coating, heat sugar and water in the pudding mould till the sugar melts & caramelizes to golden brown. Swirl to coat the sides of the mould. Keep aside to cool.
Take a bowl, add cornflour and 2 tbsp cold milk. Mix well to remove lumps and keep aside.
Pour milk in a pan, add sugar and bring to a boil by stirring continuously until all the sugar is dissolved.
When the milk starts to boil, simmer and add the cornflour-milk mixture, stir well and mix thoroughly.
Now alternatively increase the flame and simmer for few more mins, until the milk is thickened. Keep aside to cool.
Break the eggs and put in a blender. Add vanilla essence and blend to form a smooth & frothy mixture. Add the milk to the blender (Check and ensure whether the milk is properly cooled or not). Blend once again to a smooth milk and egg mixture.
Pour this mixture into the caramelized pudding mould (fill upto ¾ of the mould).
Take a pressure cooker, place a pressure cooker ring and pour water very carefully into the pressure cooker to ensure water is about 2″ below the rim of the mould. Place the pudding mould on the ring and cover the mould (so that water do not enter into the pudding mould).
Cover the cooker and let the steam escape. When the steam starts to escape, check watch and steam for 15-20 mins. Check whether the pudding is ready or not (insert a fork / toothpick inside the pudding, if it comes out clean, pudding is done or else add a little more water and steam for another 10 mins)
After the requisite time, switch of gas, carefully remove the pudding mould so as not to disturb the pudding. Keep aside to cool and then chill in the refrigerator for 1-2 hours.
 To serve, carefully run the edge of a knife around the border of the mould. Place a plate over the pudding mould, hold firmly in place and turn over gently.
The pudding will turn over onto the plate, caramel side up. Serve with the caramel sauce, chocolate shavings or whipped cream. Enjoy!!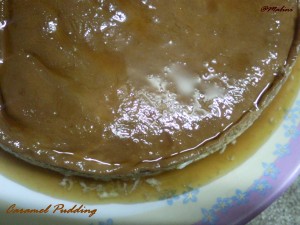 Last 5 posts by Malini