Celebrating Holi and some traditional recipes
Holi, the festival of colours is one of the most important Hindu festivals, where people indulge in revelry and merry making with friends and relatives.
Legend of Lord Krishna is associated with Holi as it is believed that Lord Krishna started the tradition of playing with colours by applying colour on his beloved Radha and other Gopis.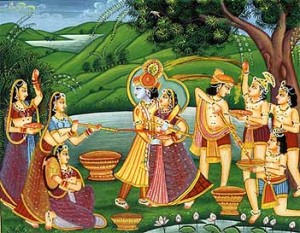 Holi is most celebrated with enthusiasm in Mathura, Vrindavan, Barsana (The birth place of Lord Krishna's beloved Radha) and Nandgaon – the places associated with the birth and childhood of Lord Krishna.
Holi is celebrated by different names in several states across India. The traditions followed vary from one state to another and also has a unique story behind each name like:
Lathmaar Holi in Barsana (The birth place of Lord Krishna's beloved Radha)
Dulandi Holi in Haryana
Dol Purnima in West Bengal
Basant Utsav / Spring Festival in West Bengal (Started by the renowned poet and Nobel laureate Rabindranath Tagore in Shantiniketan)
Rangpanchami / Shimga in Maharashtra / Goa
Hola Mohalla in Punjab
Kaman Pandigai in Tamil Nadu
Phagu Poornima in Bihar
Holi is celebrated along with several delicacies across India and traditional recipes vary from family to family and place to place. Sweets are an essential element of Holi celebrations though snacks and savouries are also relished equally.
Some of the most relished delicacies are
Thandai
Gujiya
Malpoa
Puran Poli and Katachi Amti
Dahi Bhalle
Chaat recipes (Aloo Chaat, Papdi Chaat)
Meetha Chawal (Seet Rice)
Pakodas (Onion Pakoda, Vegetable Pakodas)
Sewai Kheer (Semaiyer Payesh)
Here are some of the traditional recipes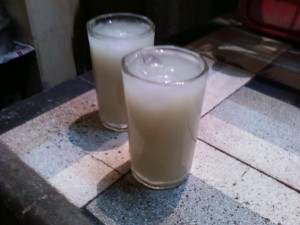 Thandai (Almond Spiced Milk)
Ingredients:
Almonds: 1/2 Cup
Milk: 1 & 1/2 Cup
Sugar: 4 tbsp
Whole Black pepeer (Kali Mirch): 1-2 tsp
Fennel Seeds (Saunf): 1 tbsp
Poppy Seeds (Khus Khus): 2 tbsp
Green Cardamom (Chhoti Elaichi) : 4
Water: As needed
Procedure:
Soak almonds in water for 5-6 hrs. Peel off the skin and keep aside.
Grind black peper, fennel seeds, poppy seeds and cardamom to a fine powder.
Add almonds, sugar and the powdered mixture. Blend to a fine paste. (Add a little water).
Strain the liquid, add milk and mix well. Serve with ice.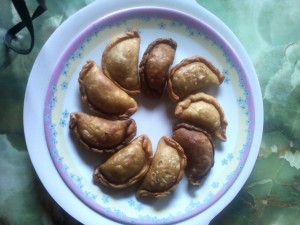 Gujiya
Ingredients:
Maida: 2 cups
Semolina / Sooji / Rava: 1 cup
Oil: 6 tbsp
Khoya: 1 cup
Sugar: 1/2 cup
Milk: 1/2 – 1 cup
Black Cardamom powder: 1/2 tsp
Cashew nuts, Raisins and Almonds
Oil for frying
Procedure:
Mix maida, sooji and oil. Gradually add water and knead to a firm and smooth dough. Cover and set aside.
For the stuffing: saute the raisins, cashew nuts & almonds in oil, drain oil and keep aside.
Saute khoya in a little ghee, add sugar and cardamom powder and mix well. Add raisins, cashew nuts & almonds and cool thoroughly.
Divide the dough into small balls and roll out into small circular poori. Place a spoonful of stuffing at the centre and fold the poori into semi circular form.
Moisten the edges with a little milk, press slightly and seal the edge in a spiral form from one end to the other end. (You can use a Gujiya / Dumpling maker).
Lightly fry them till golden brown. Remove and drain excess oil.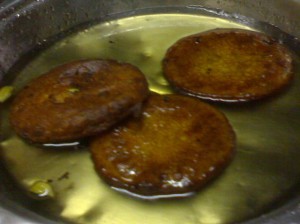 Malpoa
Ingredients:
Maida: 1 cup
Milk Powder: 1 cup
Sugar: 1 cup
Fennel seeds: 2 tsp
Black Cardamom, crushed: 1 tsp
Black pepper, crushed: 1 tsp
Oil for frying
Water as required
Procedure:
Mix the maida and milk powder, add fennel seeds, crushed black cardamom and black pepper and mix well. Gradually add water to for a smooth batter of pouring consistency and keep covered for 1 hour.
Make a sugar syrup by dissolving sugar in water and keep aside.
Heat oil in a pan, pour a ladle of batter in the pan and fry on low heat. Flip to the other and fry till both the sides are crisp and light brown. 
Drain and remove the fried malpoa and release it in the hot sugar syrup. Remove the malpoa and serve hot / cold.
Last 5 posts by Malini