Chillah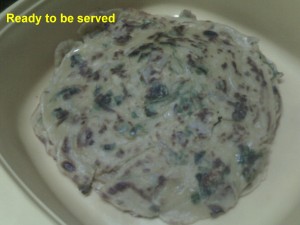 This is in context to Khushi's post on International Pancake Day. A pancake is a thin, flat cake prepared from a batter and cooked on a hot flat bottomed griddle / frying pan.
This is what Wikipedia (the free encyclopedia) has to say: Pancakes exist in several variations in many different local cuisines across the world. Most pancakes are quick breads, though some are made using a yeast-raised or fermented batter. Pancakes can be eaten at different times of the day depending on local tradition. A crêpe is a popular variety of pancake of French origin.
Most varieties of pancakes are cooked one side at a time on a griddle and flipped halfway through the cooking process to cook the other side. The process of tossing or flipping is part of the essence of the pancake, and one of the skills that separates the experienced cook from the beginner. It is traditional to turn pancakes over by tossing them in the air using the pan and without using any other implements. This is a tricky maneuver that requires practice to perfect.
Today I am writing about Chillah, an adaptive version of soru-chakli (Bengali pancake, supposed to be made by wheat batter) made by mother and enhanced to be a wholesome recipe which can be eaten at breakfast, lunch or dinner.
The most important and unique thing in this recipe is that you can mix and match the ingredients and add vegetables of your choice (like grated carrots, cauliflower etc.).
So every time you come up with a new dish to impress the family members / guests.
Ingredients:
(I am not mentioning the exact weight as this is as per requirement but the flour, wheat and gram flour (besan) should be of equal quantity each).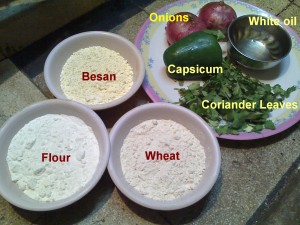 2 cups gram flour (besan)
1/ 2 tsp baking powder (optional)
2 medium sized onions, finely chopped
1 large capsicum, finely chopped
2 bunch cilantro / coriander leaves, finely chopped
A pinch of red chili powder (optional, if you like it hot)
Water (as per requirement)
Preparation: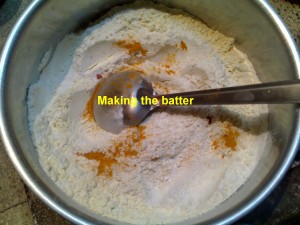 Sift together flour, wheat, besan and baking powder. Add turmeric, salt, red chili powder, and salt and mix well.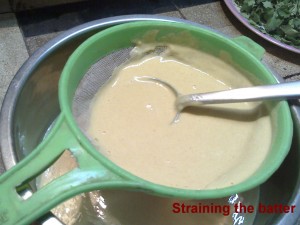 Slowly add water and blend to form a smooth batter or until you get the right consistency.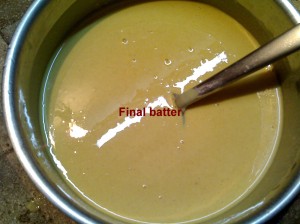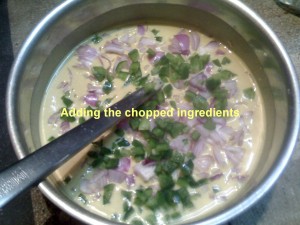 Add the chopped onions, capsicum and coriander leaves in the batter and mix well.
Take a non-stick frying pan and heat 2-3 drops of white oil. Spread & coat all over the base with a wooden spatula including the side of the pan.
When the oil is hot, reduce heat and pour a ladle full of batter in the middle.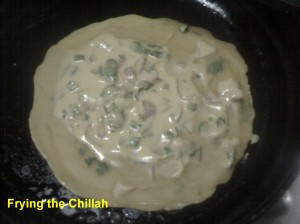 Spread the batter in a circular motion by tilting the pan or by spreading with the back of a wooden spatula to form the chillah (You have to do this quick before the mix sets, a few attempts and will have a perfect chillah).
Let it set (you will know when the bottom is set by seeing the colour change).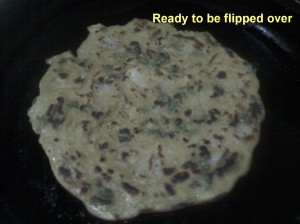 Flip the chillah to the other side. Add a little oil and toast till done.
Serve: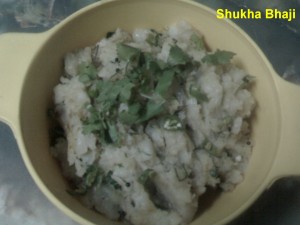 Serve hot with sukha bhaji (a dish of mashed boiled potatoes fried in a little oil with mustard seeds, chopped chillies & sliced onions and garnished with coriander leaves)
Enjoy!!!
Tips:
Ensure that there are no lumps while making the batter, you can strain through a strainer to get a smooth batter.

Check the consistency with a spoon full of batter. If it's pouring very easily, you have to add little flour and if it's taking time to pour, add a little water.

A perfect batter with the right consistency should easily spread in the frying by tilting the pan around.

Always add the chopped ingredients after the batter is ready otherwise it will be difficult to mix, lumps may remain and you may not get that right consistency.
Last 5 posts by Malini