Dad in Question: Winfried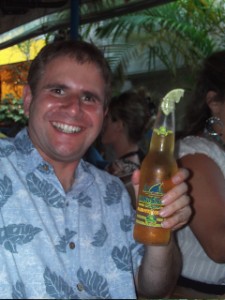 Name:  Winfried
Occupations: Network Admin
Kids: 2 daughters: Ileana 17, Ashley 13
Born and brought up:  Maracaibo, Venezuela,
Countries lived in:  Venezuela, Germany, UK and US
Cultures that influence my life: Latin American , European (Germany/Spain)
 
What were some of the most interesting things you found about living and working here in the US?
One of the most interesting thing is that Spanish is the 2nd language of the US. Just go to South Florida and everybody is Bilingual.
What do you see as some of the most surprising things about the workplace in US vs. your home country?
In the US you make the big bucks. :0)
 
What surprises you most about raising kids here vs. your home country?
Dont know my kids were born and raised in the US.
What makes life interesting when raising multi cultural kids?
The fact that they are bilingual (English\Spanish) , and how the mix words from both languages, creating Spanglish all the time.
Festivals you celebrate?
Gee we celebrate every festival.. why not?  :0)
 
Three things you would do to change the world?
Vote Democrat, vote Democrat, vote Democrat
Fun activity you do with kids?
Paint ball  and boxing
Fun activity you do for yourself?
Play war games on the Internet with my internet buddies. Also Social networks like facebook to interact with friends and family.
Last 5 posts by Khushi