Disneyworld with a toddler – Had a magical time!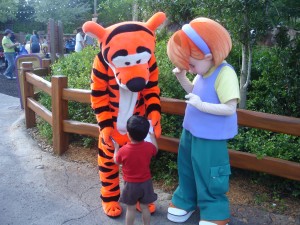 I know, I know, it's so cliched! But I did have a wonderful, magical time. Some people had mentioned that maybe we should wait till the babe is older as he will never remember this visit. But somehow, the visit seemed so special and wonderful, that I think it was worth it, if not for anything else but just to broaden his mind and imagination. I wanted to write about traveling to Disney world with a two year old, as we learnt quite a but.
We stayed at a Disney resort, which I think was a good idea. I had never stayed in one before but this time with naps and strollers and other such stuff, we thought it would be a great idea. One thing we did find is that you have to book way in advance (think six months) to get good deal. We did it at short notice, so I guess we ended off paying more. But we did have the monorail coming into our hotel which was wonderful.I would recommend staying at a Disney resort (the budget ones are all booked way in advance, so book early) as it makes life just more convenient with easy parking, bus rides etc.
First off let me say this – Disney does know how to treat kids. And I am not talking of the characters or the rides but the child sized sofas and chairs and table at our hotel lounge and play areas, the child sized shower in the pool, the zero gravity entrance to the pool and the child sized buffets at some of the restaurants. The babe loved sitting on the small sofas and tables. The babe took great pride in serving himself at the restaurant at a buffet table made for his height. The fare included the usual mac and cheese, applesauce and PB and J but also grilled chicken and veggies. For breakfast, there was sausages, bacon, scrambled eggs etc, but too much of fruit loops in my opinion. But I guess its OK for a few days to be high on sugar…
While on the topic of meals, I was a bit concerned at the amount of junk available and consumed by us all those few days. However, Disney seems to have made some effort, and we do get two veggie servings and a fruit with each kids picks meal if you ask for it whether its a sit down table meal or a quick meal (such as carrots and celery, apples etc).
You know, ever since I had a kid I have been looking for 'kid friendly places'. Sure the crayons and coloring pages do a good job at most places, but other than feeling less out of place in swanky places and more at home with our dear friend Chuck at Chuck e Cheese,  I have not really enjoyed going out with kids. I have learned to enjoy inspite of the slight feeling of discomfort that accompanies me. I guess after my recent India adventure this feeling was heightened.
But Disney was different. There were stylish and clean and beatiful places and restaurants outside the parks where I could and the babe could feel totally at home and welcome, and we were so relaxed.
We stuck mainly to magic kingdom and animal kingdom, straying into Epcot briefly before we left. I found these to be the most kid friendly of the parks.
More on the parks tomorrow – my rosemary roast chicken is calling!
 Here's the link to the next post.
Last 5 posts by Khushi