Dumb Charades…..well, almost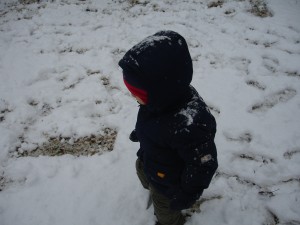 The baby is into dumb charades. The rules are as follows:
Baby will use 'mmmm' s and hand gestures to communicate
Mom or dad or big brother will have to interpret
If interpretation is right, baby will 'mmmm' happily
If interpretation is wrong, baby will turn out his little red lower lip in a most pathetic heart rending gesture and wail.
So in the morning at the breakfast table.
Baby:'mmmmm' (pointing in the direction of the kitchen)
Me: Do you want milk?
Baby : 'mmmmmm' (in a disappointed tone)
Me: Do you want Cheerios?
Baby : 'mmmmmm' in satisfaction
Baby (Selecting a cheerio delicately between thumb and forefinger ): ' mm'
Me 'What?'
Baby (lifting cheerio towards me) : 'mmm'
Me: No cheerio for baby, not for mommy
Baby (pouting) MMMMMMMM
Me: No cheerios for baby. Mommy has cereal
Baby : (pout broadening to expose 6 teeth) : MMMMMM
Me: OK, Mommy will have cheerios
I seriously think I am dissuading his language learning. He is so comfortable in his mmmm language that he seldom ventures into words, which I know he can say quite a few of.
So do I not 'understand' him any more?
Last 5 posts by Khushi