Earth Day Activities for Kids – 5 things to do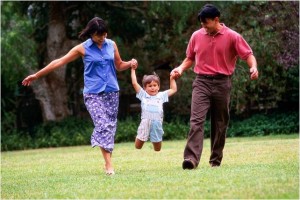 Earth Day 2011 is April 22nd. Here are some simple ideas and activities for kids on earth day :
Reading Green: Go to the library and read a book with your child. I liked Indrani's idea. Plus the library is a great example of sustainable sharing. Talk about how reusing and returning the books helps preserve the environment, how many can benefit from the same thing.
Spring Clean your closets: Choose a closet and look throug it with your kids (it will take longer than it would have on your own, but its worth it). Sort out what you can reuse, recycle, and what you can donate/take to a thrift store. Alternately, ask your kids to donate a toy or two.
Eat Local for a day: Hit the supermarket and hunt out local items in each departments (easy at whole foods or farmers markets) and discuss why we should make an effort to eat more local with your kids.
Add to your garden or start one: Add a little more green and color around the house by planting something on earth day. Maybe get the kids to label or paint the pots.
Talk a little science:Its never to early to start explaining why. Take your favorite green cause and discuss why with the kids.
Lots more ideas on celebrating earth day here..
Last 5 posts by Bloggermoms