Easter Egg Hunt Ideas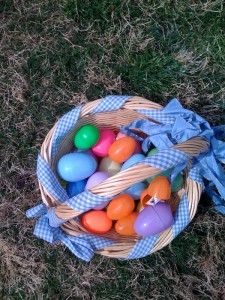 We went to a great easter egg hunt today at our friends house. I had done my first ever egg hunt last year, but I was a newbie as far as hunts went. All the kids in this one were of the same age, with just two babies. This all the kids got to have a large number of eggs. It was also not at all done in a competitive way.
Here are somethings that my friend did to make it special:
Announced the rules before the hunt to all the kids
Kept the easy area in the front yard for babies only. Larger eggs were scattered all over the grass that the babies could pick and add to their baskets.
Decorated a couple of trees in their front yard with re-used easter egg shells from last year. They looked so colorful and special, and added quite a festive air for the proceedings
Filled the eggs with little toys and trinkets like dinosaurs, or large rings or tattoos. So no need to control the candy.
Found very creative hiding places for the many eggs.
Served juice for the thirsty kids
I also learnt that you can use food coloring (package has directions) mixed with a tablespoon of vinegar and water to color hard boiled eggs which the easter bunny can then hide.
Last 5 posts by Khushi