Eat, Pray, Love and Ignore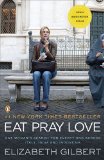 Eat, Pray, Love
 –  The movie. Though I was waiting for a movie starring Julia Roberts, I have been feeling absolutely no urge to watch Eat, Pray, Love. First, the hysteria seemed over the top. Second, it seems like the story of a woman who yet again decides she needs to 'find' herself.   Plus, unlike Sex and the City, which makes no claims to go beyond than high fashion, extravagant lifestyles and absurd situations, this one actually claims to have a spiritual undertone.
And predictably its about the pseudo intellectual 'me me me'. Instead of going out to eat, pray, love as just another part of life the author needs to use self pity as an excuse to do these without guilt. But almost thinking of these made me feel guilty – am I the only one?
So I called up three of my friends to ask them if they wanted to see the movie. The first felt it was yet another poor little rich girl thing, the second asked me if Ms. Gilberts problems would be something a beggar on the road in India would sympathize with and the third just said it seemed blah.
So I guess it is going to me eat, pray, love and ignore for me.
Last 5 posts by Khushi