Efficient Mom – Things I can't do without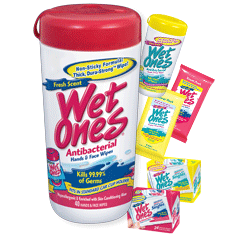 I can't leave the house without my Wet Ones antibacterial hands and face wipes.
I keep a canister in the car, which fits nicely in the cup holder. I keep the individually wrapped Wet One's in my purse and diaper bag. Just today, I used them to wipe sticky raisin fingers, the table at a restaurant and their hands after touching a stair rail.  When you're on the go they keep your kids clean and relatively germ free.  Wet Ones are on my list of top five things I can't do without. To be continued….
Last 5 posts by Suzie