Kids and Healthy Breakfast Event – The Results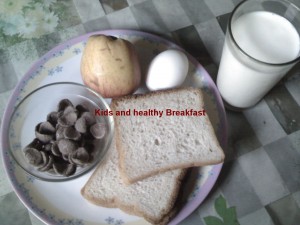 Results from our kids and healthy breakfast even are here. Check out the list below.
Thank you Malini, Sarmila, Yasmin, Indrani, Roma and Khushi for smoother mornings! 
Here are all the posts:
A healthy Chillah Recipe by Malini
Nutritious Breakfast – Some important tips by Sarmila
Bread Upma – Bread Polau by Malini
Quick and fun breakfast tips for pick y eaters by Yasmin
Breakfasts and Breakneck Speed by Khushi
Vegetebale Fritatta with Cheese by Sarmila
Here's what the event was about:
I can't tell you how many times my mother repeated that to me when I was growing up. Don't you think my mom was right? Isn't it funny that you become a mom, you tend to believe that Mothers are usually right? (I can say that now because I'm the mother of 2 kids)
Breakfast literally means 'to break the fast' which is exactly what we do when we wake up in the morning and haven't eaten since dinner. But very often the realities of a hectic schedule makes it impossible to make our kids have a healthy breakfast each morning.
Hey Bloggermoms, if you have a hard time getting your child to eat nutritious breakfast, get creative and make eating breakfast fun and easy. Do it for yourself and for your kids!
So….rush your entries for the Bloggermoms Kids and Healthy Breakfast" Event.
Bloggermoms, all you have to do is: 
Post your recipes, tips, ideas for making a healthy breakfast possible on this site starting from 1st March till 31st March. 

Any numbers of entries are welcome. 

Write in the subject line: 'Kids and Healthy Breakfast' Event.

 

Link back to the event announcement on from your post. Feel free to use the picture!!

You can also mail your recipe along with a picture to

contactus@bloggermoms.com

, and it will be posted it on this site during the round up. 
Non-members
Write in the subject line: "Kids and Healthy Breakfast" Event.

Mention your name, name of the recipe and mention the link to this event as well.

If possible, attach pictures with the mentioned recipe/ idea/ tips/ writeup.
We are looking forward to hearing from you!
Results:
A healthy Chillah Recipe by Malini
Nutritious Breakfast – Some important tips by Sarmila
Bread Upma – Bread Polau by Malini
Quick and fun breakfast tips for pick y eaters by Yasmin
Breakfasts and Breakneck Speed by Khushi
Vegetebale Fritatta with Cheese by Sarmila