Father's Day with Kids – Top Things to do on Father's Day 2010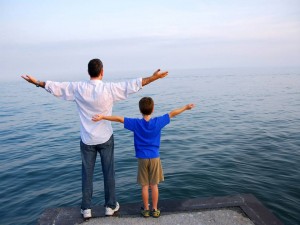 Planning Fathers Day 2010 with kids? Looking for top things to do on Fathers day with kids? Its difficult to start from scratch, so we have a list of ideas to get you started.
Family Picnic: Take advantage of the timing of fathers day in the middle of summer to plan a family picnic. Plan a surprise morning picnic at the park, a nature center or even on a rug spread on your backyard. Serve bagels and cream cheese, some fruit and juice. Or plan a more elaborate dinner or lunch picnic in a beautiful setting for dad and the crew. Keep the cooking and clean up simple, and focus on fun and games.
Family Game Outing: Bowling, fishing, mini golf, a game arcade, even a driving range. Choose something that dad likes and have some serious fun with the whole family.
A Video Game Challenge: Get the new generation to challenge dad to a video game contest. Let the remotes rule for a half day!
Dad's Favorite Foods All Day: For every meal and snack, get at lease one item of dads favorite foods. The family can plan and guess what dad will like within the constraints of his diet , of course.
Taking a Hike: A simple, beautiful and healthy way to enjoy the day with dad. Pack lots of drinks and water, and choose a nice hike from the national parks sites.
Using Words: Encourage kids to use their words with dad. Tell him how much they love and appreciate him, talk about something nice they did together or write in a card something from the last year that touched their heart.
A day trip or a weekend away: Surprise dad by planning an exciting day trip or weekend getaway with the kids and not telling him till the very last. Get the kids to help with choosing a hotel, or where to eat, choosing the activities, printing out directions and packing dads clothes all without his knowledge.
Family Video Box Office: Get the kids to choose the best home videos of dad and themselves from over the years, and play then for laughs and love over breakfast or during the day.
Buying Dad's Gift with him: First, give him a gift card to the store he loves, and then pile along with the entire family to the store. Walking around with dad in the electronics or tool super store may not be for everyday, but on father's day offers insights into his thinking and shows appreciation of what he likes.
Board Games Galore: Start Father's Day early on Saturday evening with some cool snacks, a picnic on the floor of the living room and some serious board games.
Letting Dad be: If thats what dad likes, plan a day when he can enjoy on his own. Get the kids involved in doing a celebration earlier, so that they know that dads need occasional space and time off too.
Visit to a place from Dad's past or present: Take dad out to his favorite place in town or maybe even an out of town place he loved before.
So what are you planning? Let us know!! We would love to expand the list for Fathers Day 2010 with Kids.
Some ideas on top gift ideas for fathers day are here   and ways to celebrate fathers day with your preschooler or toddler is here. An article on Fathers Day Gifts from Baby just added!
Last 5 posts by Bloggermoms