Mom in Question: Priya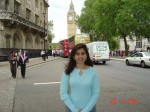 Hey guys, I thought it would be interesting to interview and post featured readers and writers of this site on this column. So I are starting with Priya
Name: Priya
Occupations: IT, Real Estate Agent, CFO of a small business,blogger
Kids: One daughter Megha 3, and son Akshay 7
Born and brought up: Trivandrum, Kerala, India
Countries lived in: India and United States (In US for 9 years)
Cultures that influence my life: Indian, American 
What were some of the most interesting things you found about living and working here in the US?
 Life was very fast here compared to India. Shops were open 24 hrs. I liked the wau the shops were set up, and were neat and well decorated
It also surprised me that we did not know our neighbors at all, specially in apartment life.
What surprised you about your birth experience here in US?
Women here are more educated about what's happening with you and baby as compared to in India. You have many books to read. You can ask so many questions and know what's going to happen stage by stage. Your husband can be in with you in the delivery room and you can take Epidural to escape the pain.
I liked the hospitals – the delivery room with TV, andand nurses being available at a switch of a button. Here you also get to know the sex of the baby which they don't tell you in India.
 What makes life interesting when raising multi cultural kids?
Teaching Hindu traditions, and making sure they don't take everything for granted such as toys, clothes etc because here you tend to have so many more of those.
Also, since we are here, we need to have a lot of friends. Back in India we had a lot of cousins and family which we don't have here so friends are important. 
Kids education is different here. More practical than mugging up.
Teaching them and maintaining a second language is a challenge.
Festivals you celebrate? 
Onam (August), Vishu (April 14th), Diwali (November), Christmas, Thanksgiving (November), New Year
What are some of the biggest pluses and minuses of being a working mom?
Plus- You earn
Minus – when the kids come back from school you are not there and cant volunteer as much in school activities.
Three things you would do to change the world?
Reduce gas prices
Make a four day work week
Get one month vacation here just like Europe
Fun activity you do with kids?
Play tic tac toe, rock,paper, scissors.
Fun activity you do for yourself?
Read books (Last one read: Robin Cook's harmful intent)
Last 5 posts by Khushi