Filling Summer Break with Fun and Learning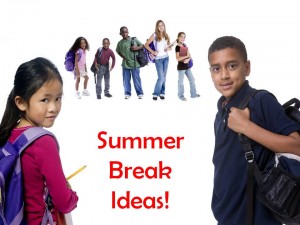 (Since the summer is fast approaching, I thought of sharing this simple and yet wonderful list of things you can do with the kids over the summer. This list was sent to us by the Counseling Department of our elementary school.)
When the school year is winding down, parents are usually busy planning vacations, signing kids up for summer sports and activities, and figuring out how to keep their children busy and safe for the summer. While it is not a good idea to over-schedule your children, it is very important to make sure you have some ideas planned that will keep their minds thinking and learning – using that fabulous brain! Children's minds are like sponges, there are opportunities everywhere for them to learn something new. Here are a few ideas:
Join the summer reading program at the public library! They plan lots of fun activities and reward kids for reading books. Make sure you set aside time to read each day. Pick out a couple longer books to read aloud this summer – let your child help make the choices!

If you attend a family reunion this summer, plan to look through old photos before attending. Talk with your children about your memories with siblings, cousins, and other relatives. Make them a part of your family conversations when everyone gets together.

Visit museums or zoos with your children. Spend more time at their favorite exhibit or near their favorite animal and really learn some facts about it.

Encourage your child to start a collection – maybe rocks, shells, pinecones, or other natural objects. You can help them to do research on the internet or in books and learn interesting facts about the items they are collecting.

Play games. Board games, card games, wiffleball on the beach, or somersaults in the pool! Make sure to limit "screen time" to no more than one hour per day. Too much time spent on video games and computers will have a negative effect on their learning, physical health and social skills.

Learn some new recipes together. There are many kid-friendly recipes that don't even involve using the stove.

Go camping! There is so much to learn from nature. Tell stories around the campfire and sing songs. Take hikes in the woods. Stroll along the beach.
Please share any other fun and creative ideas you might have for  occupying the kids over the summer.
Have a safe and enjoyable summer!!
Last 5 posts by Neelam Kamdar Bhamani