Fish Curry with Cauliflower – Phul kopi diye macher jhol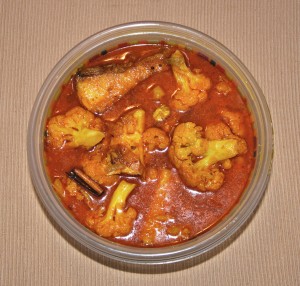 Hello, back again with a  hot summer fish recipe, good to eat with warm hot rice!
fish(rui, katla, or grass carp)- 8 pieces
potato- 1
cauliflower-  cut into florets
onion- 1/2 (paste)
ginger -1/2 spoon(paste)
cumin powder-1/2 spoon
 
pat the fish with salt and turmeric, fry
fry the potato and cauliflower, keep aside
then put some oil in the pan
add cinnamon, bayleaf, cumin, cardamon,
after the oil gets heated add the paste of ginger and  onion,
add red chillie powder and the cumin powder
cook , add salt
then add the potato, cauliflower,
cook out some little water
then add the fishes
if needed put little water
boil and cook
when you see  the potatoes and cauliflower gets soft, put the gas off
serve in a bowl.
Enjoy the lunch!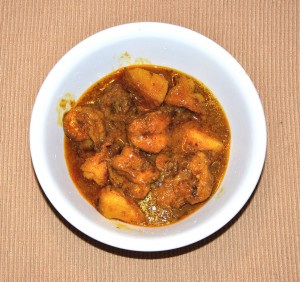 Last 5 posts by roma