Fourth of July Activities with Kids – Some ideas that are simple and free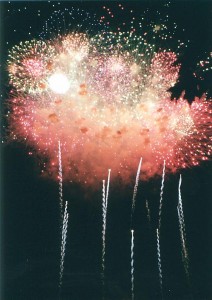 Fourth of July with kids? Here are some ideas to try with kids to celebrate July 4. 
Fourth of July Activities with Kids 
1. Talk about it: Always on our list, this first point is really about talking with your kids, and explaining what 4th of July is all about. Just explain the real story, and let  the kids filter it according to their age and range of development. You may be amazed at what they take in. 
2. An American Story: Tell your kids your American story. Why you love living here, what you liked when you came here from another country, what you have loved about the country over the years. Ask them their story – if they have been to other countries ask them about the differences and what they like or dislike. 
3. An All American Activity: Choose an All American activity like grilling out at the park or playing baseball or hotly debating a controversial issue. Do talk to the kids why you chose it and what makes it American. 
4. American Journeys: Print out a map of the United States on July 4 and plot your journeys. Talk about all the places you have visited or have relatives in. Discuss what you saw or what you know from pictures. Discuss the geography and the amazing beauty of the land. 
5. American Food:  Choose an All American meal that day – pancakes maybe for breakfast and a grilled lunch (foodnetwork is sure to have ideas). Ask your kids what American food they like and let them plan the menu. 
And dont forget the food and fireworks. What are your favorite July 4 activities with kids? Add to our list!
Last 5 posts by Bloggermoms