French Toast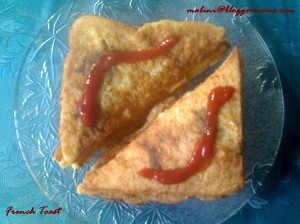 The wonderful event "Kids and Healthy Breakfast" is almost coming to an end. I am contributing yet another recipe (French Toast) for the event.
French toast is a popular & nutritious breakfast food made with bread & eggs and often with addition of milk topped & served with sugar, butter, fruit, syrup or sauces, fried chips as per choice.
French toast was evolved to use day-old or stale bread (some breads, French bread especially, become stale after one day). Whereas a stale, crunchy bread might seem unappetizing, soaking the bread in eggs and frying it solved that problem.
Generally french toast are prepared where slices of bread are dipped in a beaten egg mixture. The slices of egg-coated bread are then placed on a frying pan / tawa / griddle with a coat of butter or oil, and cooked until both sides are browned and the egg has cooked through.
Ingredients:
10-12 slices white bread, halved (you can used whole slice)
Preparation:
Break eggs into a wide, shallow bowl, beat lightly with a fork. Add milk and salt and stir well.

Heat a non-stick frying pan (this requires very little oil) and add 2-3 drops of oil and coat the pan on all sides.

Dip the halved bread slices into the beaten egg mixture, one at a time and let the slices soak up egg mixture (don't press otherwise bread may break). Carefully turn to coat the other side.

Heat a little oil and place the egg coated bread slices on the pan / tawa / griddle.

Slowly toast until bottom is golden brown. Turn and brown the other side and ensure even frying on both the sides.

Serve French toast hot with toppings as per your choice. (I sprinkled freshly ground black pepper and added tomato sauce).

 
Last 5 posts by Malini