From sarongs to saris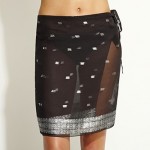 Ever since I moved to the US, I have always amazed at how Indian, the Indian Americans were here. It always struck me as how they cling on to their roots, values and cultures. All that seemed so fake and surreal to me, when I moved to New York. All I wanted to do was to see and be seen in the trendiest clothes – from skirts to skinny jeans. When I was living in the city, my closet had to be changed semi annually and almost all my clothes were black – and had some degree of shimmer in it – to keep up with the night clubs of Manhattan. Indian clothes had no place in my closet or my heart – after all who wanted to be seen in Indian clothes. Weren't they all drab and boring?
Now I take the effort (and the pain) to dress up in a sari – more so if it's a Indian household that I am visiting. As I continue to do this I am sure my son will eventually get used to Indian clothes, and stop staring at other people in a sari. But again this is very conflicting to me – coz not only can I not manage a saree, I look extremely uncomfortable. Back in India though, sarees are considered "ethnic" and reserved for select occasions like weddings. Moms my age in India today, slip in to trousers and skirts like as if that's the most normal thing to do. Perhaps it is!
How does one teach respecting elders to children? Is it sufficient to teach Dennis "to not talk back" to parents / grand parents? Or is that not required to be taught coz its dead amongst children in India. Back in the day, I would suspect it was a much easier thing to teach. Today as nuclear families rule- grandparents are mostly missing, besides the occasional visits.
As I see my much younger nieces and nephews growing up in India, I cant help but compare the stark differences in raising children, here and back home in India. Now as Dennis grows up, the call for me to be Indian, is more than ever before. Children in India seem to have it all – playstations, fancy cell phones, and the works. Back when I was growing up – we never had any of these – and cell phones were a luxury one used to "show off" to the rest of the world. I only have my own experiences to draw on, as I raise Dennis- so its always a dilemma. I have always loved reading – books when I was a little girl, to the occasional magazines now. I really hope and pray that my son picks up this habit – but these days children don't seem to be too interested in reading. Will I be called "old fashioned" if I try to imbibe this trait in Dennis. Coz todays children in India rarely read ; the handful that do – are called a bunch of names I wouldn't even dream of calling Dennis.
Kids in India are much more tech savvy – perhaps a lot more than adults in the US. I know moms here who wont let their son / daughters be online unmonitored, whereas the same age groups in India have an unrestricted internet time. Here in the US, parents always have a horrific story to share of a stranger approaching your kid online. Are kids raised in India smarter or parents plain stupid? Who knows?
I always conversed in English to my friends – and to my family – up until my son was born. I thought that was bindaas, kick-ass, uber kewl. But was it really? After he was born – I switched – to Bangla. I dont regret the decision at all, but sometimes I wonder – is this really me? I would not have been caught dead speaking Bangla in front of anyone who does not understand the language. But I did – and over came my embarrassment too. And one must remember it is a LOT harder to instill Indian traditions and cultures among children being raised outside India.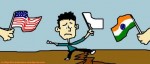 The concept of being an Indian seems to be evolving faster than I can catch up. NRI's today are far more Indian, far more traditional, and conservative than anybody I know. I think Indians outside of India, are a lot more "Indian" than Indians in the sub continent. For people who have settled outside of India – raising "Indian" children from their memories and recollections of India – is a lot harder than people who are in India. For me, India has frozen in time. What I remember of India is only upto the time that I lived there. Its hard for me to fathom and imagine that time has moved on since then. In the bargain are we contributing to raising children who will be "confused" about India? Perhaps.
Last 5 posts by CC