Fun recipe to cook with kids – Volcano Meatloaf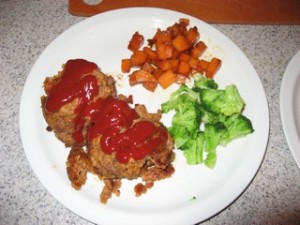 Here's a quick 35 minutes meal your children and husband will enjoy. Its easy and fun to cook with kids.
Bon Appetite!
 VOLCANO MEATLOAF RECIPE
Yields: 12 muffin size volcanoes
Oven Temperature: 350 degrees F
 Ingredients:
2 lbs of meat in any combination (ground turkey by itself or beef & pork combined).
¾ cup of tomato sauce (1 cup if using ground turkey)
1 egg
¾ cup Italian breadcrumbs
2 tbl. Spoons fresh Parmesan cheese or grated
¼ tsp. worchestire sauce (Take out if you have soy allergies)
½ tsp. garlic powder
½ tsp. onion powder
½ tsp. parsley  – Fresh 2 tbl. chopped fine
½ tsp cilantro or basil – Fresh 1 tsp. chopped fine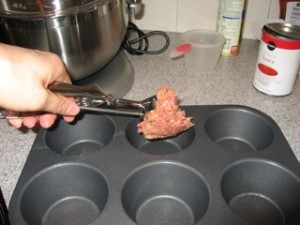 Combine all ingredients except meat and breadcrumbs. Mix well.
Add breadcrumbs, mix. It should be very moist.
Add meat and mix well be hand or spoon. 
Spray muffin tins with olive oil spray. You can also use large muffin tins. The mini size doesn't work well for this recipe.
Using an ice-cream scooper fill muffin tins to the top.
Place in a 350-degree oven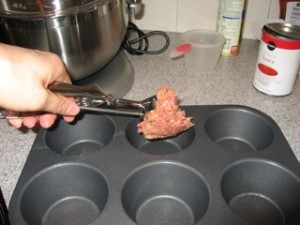 Check after 20 minutes. Time can vary depending on your oven and the meat used. Using a meat thermometer check internal temperature. It should be 158 F when done. It will continue cooking a bit after you take it out. My beef and pork regular size meatloaf volcanoes take 30 minutes.
 Carefully spoon meatloaf out of tins and flip over. I let my kids pour their own lava (ketchup). I serve Volcano meatloaf with broccoli and candy sweet potatoes.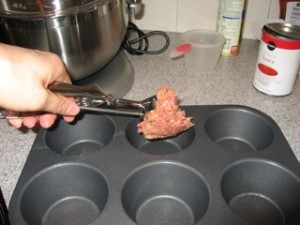 To make the sweet potatoes simply dice up a sweet potato put it in a hot skillet with vegetable oil and a bit of butter. After five minutes move them around and add a tablespoon of brown sugar, pinch of cinnamon and some maple syrup grade B preferably. Put a top on and cook until tender, but not falling apart. My boys named them candy potatoes, which I count as dessert.
Please write any comments, or your own sugggestions and experiences in the comments. I would love to hear from you.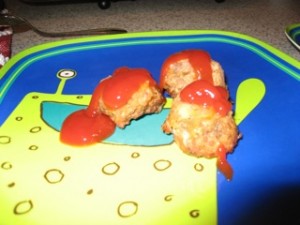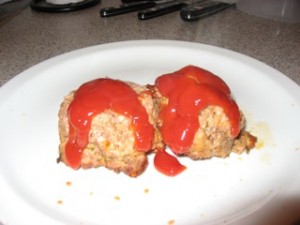 Last 5 posts by Suzie