Happy Dusshera and Shubho Bijoya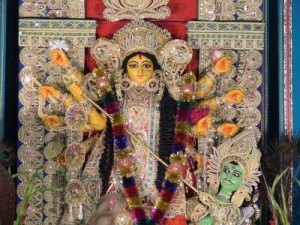 To all our readers – a very happy Dusshera and Shubho Bijoya. Thanks to my friend Pragna for the picture.
In Atlanta some of us celebrated Pujo last weekend and some will this weekend. And there are some Dusshera parties too, though I dont think there will be any Ravanas burnt! My husband has fond memories of taking a blanket and heading out to see the Ram Lila in the complex where he lived, and I of course, through my years in Calcutta have fond memories of puja – the many festive, crisp new dresses, Anjali at the local puja mandap, loud music on loudspeakers, lining up to see the lights and pandals… and then a tamer but more intimate version in Delhi, and finally, the well run Atlanta Pujas which connect you to Cal so easily and nostalgically.
This time I am at home with the newborn, but the husband is taking my son out to pumpkin patches etc! Thats so that at least he does something great fun on Puja. Any plans?
Best wishes to everyone!
Last 5 posts by Khushi