Healthy Snacks for Kids on the Go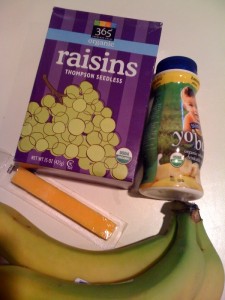 Having a child with food allergies makes snacking when we're not at home a bit challenging. I have to prepare ahead of time because I can't stop and pick something up at a restaurant or a vending machine. This challenge has helped make our family a bit healthier.  Before I leave the house, I pack some of the following items in my diaper bag:
Bananas
Raisin boxes
Individually wrapped cheese
Sippable yogurts (Don't forget to throw in a straw.)
Water bottles 
 When toting the perishables, I add a freezer pack into a small-insulated lunch bag. All of these items can be thrown in quickly because time is one-thing parents don't get enough of.  If you happen to have time you can always pack some of the following:
 Grapes
Carrots sticks
Celery sticks
Strawberries
Blueberries
Cantaloupe
Healthy Muffins
My favorite muffin is banana wheat germ with honey, but any healthy recipe will do.
If you have another healthy snack for moms on the go, please add it to the comments. I'd love to hear more ideas.
Last 5 posts by Suzie