Holi Activities for Preschoolers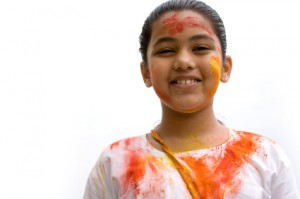 Holi is all about being messy and colorful. So coming up with fun projects is not difficult within those two popular preschool themes!
Craft Ideas for Holi
Rangoli – Ask the kids to smear glue on sheets of paper. Then hand them colored sand, or colorful confetti or just bits of colorful paper to smear on the paper in designs of their choice. You may also try to incorporate a circle in the middle, and symmetric shapes around the circle as Rangoli is traditionally done. But I would just go with smearing colorful sand (which reflects Abir or Gulal or the powder used traditionally for Holi) on paper smeared with glue.
Finger Painting: Holi is all about getting colors  on your body and clothes. So finger painting, doing a group hand paint or foot print finger paint project for a group poster all reflect the Holi theme.
Body Paint: Ask kids to trace out a friends body on a big poster paper. Then on Holi day, smear the traced outline with different colored paints. You can use sponges, brushes or any such material
Group Posters as Holi craft ideas – You can do any of the above as a group project for the class. based on the ideas
Other ideas to celebrate Holi in Preschool:
If the school allows or you are adventurous as a teacher you may want to ask the kids to bring waterproof aprons or smocks and allow them to smear finger paints on each other (of course, make safety rules). Kids will never forget this festival!
Bring in colorful confetti and let the kids fill small buckets (or yogurt containers) of confetti and dump them on each other. You may also keep buckets of colorful confetti on two sides of the class room and ask kids to scoop and smear on each other. Again, the point is to get messy and colorful!
Get a couple of cakes from parent volunteers and have the kids decorate cakes with colored frosting of different colors. Don't forget to take pictures!
Get loads of sprinkles, and let the kids sprinkle them all over their lunch or snack or treats that day.
You can find more ideas in our list of ideas for Holi Party!
Keep wipes, a broom, dustpan and the camera handy. Make sure you take and share a lot of pictures!
And some more ideas on kids craft ideas for holi or a toddler holi party here.
For more ideas on celebrating Holi in schools, also for older kids, click here.
Click here for our ideas of celebrating Holi in the office.
Our entire package on Holi articles can be accessed here. It has links to other articles on holi recipes, holi parties etc.
Please add in your comments and ideas. We would love to hear from you!
Last 5 posts by Bloggermoms