Holi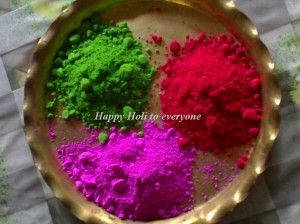 Tomorrow is Holi, the festival of colours. It is a popular Hindu festival celebrated mainly in India and also globally.
Holi is celebrated on the full moon day in the month of Phalgun (Phalgun Purnima), which usually falls in the later part of February or March.
Bonfires are lit the day before, also known as Holika Dahan (death of Holika) or Chhoti Holi (little Holi). On the main day, people celebrate Holi by throwing coloured powder (gulal / abir) and coloured water at each other.
In West Bengal, holi is known as Doljatra / Dol Purnima or Boshonto Utsav (spring festival as celebrated in Shantiniketan) and is celebrated with great festivity and joy.
After playing Holi, we all suffer from rough skin, coarse hair and brittle nails.
Some useful tips to prevent all these:
Skin Care:
Drink lots of water to avoid any ill effects on skin.

Apply lotion on body and lip balm on lips to protect your body from harmful colours.

Apply moisturiser and remove the colour with a cleanser (Don't scrub too much to take out colours).
Hair care:
Massage your hair with coconut oil before playing holi.

Use a conditioner based shampoo after you finish playing holi or apply a pack of coconut oil and honey after shampooing.
Nail care:
Apply petroleum jelly on the surface and inside the nail folds.
Eye care:
Don't wear contact lenses as they tend to irritate the eyes while playing Holi

I dont think this option is possible, but you can wear sunglasses.
Beside all these:
Remember to store away that beautiful dress and wear old clothes while playing Holi that can be easily discarded as the stains never ever go away even after washing.

You can wear full-sleeved garments which will cover arms and legs.

Wear brightly colored and dark colored clothes keeping in mind the mood of the day (though we see celebreties wearing whites only to play Holi!!!).  

While washing off the color, use lukewarm water and keep your eyes and lips tightly closed.
Here's wishing everyone a healthy, colourful and a happy Holi.
Last 5 posts by Malini