Holiday Season – How do you celebrate?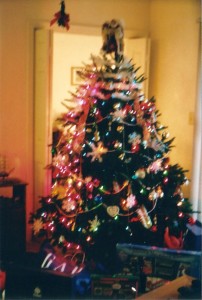 Christmas was not the holiday we celebrated at home while growing up in India.   I went to a Catholic school and we had some Christmas celebrations in school.  I looked forward to Christmas every year since we got 10 days off as a Christmas vacation.  My cousins who did not attend the Catholic school, were all very jealous of this extra time off.
After coming to US, Christmas has become one of my favorite holidays.  Everything seems magical and beautiful.   Around this time people also celebrate Hanukah – the Jewish festival of light and Kwanzaa – the American festival celebrating African heritage. All the stores are decked out and the people are more gracious and happy in general. However, before I had my son, I enjoyed all these celebrations more as a spectator then as a participant.   We did not put up Christmas tree or exchanged gifts within the family.  I exchanged gifts with some of my co-workers more to reciprocate then for anything else.
 The year I was pregnant, we bought home our first Christmas tree (Oh the discussions we had – fake tree vs. the real tree).    We spent hours selecting all the ornaments and special things to decorate our first tree with.  And since we had a beautiful Christmas tree (and also because we had all these new friends in the beautiful new city) we decided to host our first Christmas party.     Since then, every year we put up our Christmas tree and try to host a Christmas party.   This year, my son has started talking about Santa.  He loves the Chrismas music and is definitely expecting a visit from Santa on the Christmas morning.  He loves all the Christmas lights in the neighbourhood and is looking forward to our Chrismas party.  He is being a very good boy and listens to mommy so that Santa does not forget to visit our house.
How do you celebrate Christmas now if it was not the holiday you celebrated growing up? 
Do your kids believe in Santa? 
Do you exchange gifts with friends? 
What special traditions have you started around holiday season in your family?
Please send in your ideas of how to make this season special for the kids and the family.  Happy Holidays.
Last 5 posts by rajvi