Horticultural Therapy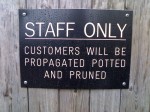 Experts have found that working with soil, flowers, and plants out in the fresh air can give people a sense of renewed purpose and direction, and propel them on their road to a longer satisfying life. Living in Long Island(where backyards are significantly smaller than an average suburban American home) it's amazing what you can grow on a little backyard plot. Well, I'm not quite there yet, but the potential is. Also who can deny the all encompassing effect of the sun, after the long harsh winters in the north east?
Late last year, I planted beans for the first time in my life and it actually grew Although, I don't consider myself a proper gardener because I never did any serious propagating, just poured a lot of money into nurseries, either pottering round them or by mail order, after brooding happily over their catalogues. This year I have an over ambitious list of to – do's in my garden including extending my lawn to the over grown and out of control irises.
There are two kinds of pleasure in gardening, to my mind. One is making a place that looks beautiful (in your own eyes, anyway), which is like the pleasure of painting or any other creative activity: it wasn't there before, and now it is, and you made it! That is a satisfaction that remains intense however old you are, long after other kinds of delight have ceased to be part of your life. I often blankly stare at my garden just looking at some part of it that turns out to be performing as well as I meant it to, or perhaps even better, and feel so perfectly happy.
The other pleasure is simply plants. I can no longer remember what it feels like not to be fascinated by them. I know that for years I just took it for granted – many flowers were beautiful and some smelled delicious, without even pausing to consider that they were living creatures. A seed, often smaller than a grain of sand, contains within it all that elaboration of roots, stems, leaves, flowers, fruit – it has life within , just as we have ourselves.
Gardening has indeed taught me life lessons. By taking care of own garden plot I am modeling behavior for my children. I can only hope that they will also grow up to be stewards of the earth. I also feel that by taking better care of the earth, I am helping to preserve it for future generations
We all need to vent our frustrations. It is much better to take my aggressions out on a patch of weeds than to lose my temper with my family. When I am feeling tense, I can rip and tear at the weeds until I feel better. It is so satisfying to tear something out by the roots. It is indeed very therapeutic!

Last 5 posts by CC