Innovative Glass Painting Techniques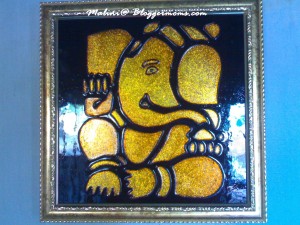 Let me today share a tip of making innovative glass artefacts by using glass painting colours and cut glass pieces.
You can see the basic glass painting techniques here.
Some of the innovative techniques:
1.  Beveled glass is generally used in windows and mirrors. Decorative wall hanging pieces can be made by using beveled glass cut pieces.
2.  You can take plain glassware (glass, bowls or plates) and make a design of your own and apply glass painting colours.
3.  You can make small decorative piece like table-top clocks, visiting card / napkin holder and glass trays etc.
4.  Similarly glitter effect is another innovative idea where you use glitter colours. Glitter effect can be done by 2 ways.
Glitter effect:
1.  Either you use glitter on undried coat of glass painting colour or mix any glitter with clear solution and fill in the gaps.
2.  First of all, you take a glass sheet, outline a design of your choice and let it dry for 1 day.
3.  Then fill in the gaps:
Either with the clear liquid. Apply glitter on top and let it dry.

Or apply the glitter mixed clear solution and let it dry.
For the background, apply black glass painting colour and let it dry overnight.
For the Ganesha Painting, I have applied golden glitter mixed in clear solution and applied within the black liner.
Last 5 posts by Malini