International Women's Day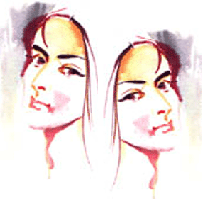 Hey Bloggermoms! Today is International Women's Day (IWD). IWD is calebrated on March 8 every year and also marked as a day of global celebration for the economic, political and social achievements of women. This day can also be stated as a day to celebrate the life of a woman who faces hardships with her inner strength.
What is International Women's Day?
Started as a political event, the holiday blended in the culture of many countries (primarily Russia and the countries of former Soviet bloc). In some celebrations, the day became simply an occasion for men to express their love to the women in a way somewhat similar to Mother's Day and St. Valentine's Day mixed together. In some place still the the political and human rights theme are strongly followed and political & social awareness of the struggles of women worldwide are discussed globally.
The first International Women's Day was officially celebrated on the 19th of March 1911.
The IWD is also celebrated as the first spring holiday, as in the listed countries the first day of March is considered the first day of the spring season.
It is apt that there is a day which we call women's day. It would be better still to not let it be just one day.  
So here's to women power and wishing you all a Happy Women's Day!
img src: google
Last 5 posts by Malini