Kids Summer Reading Ideas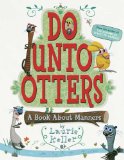 As happens each summer, the babe and I are on a reading spree. I love going to the library and choosing books, but finding ones we love are sometimes difficult. So I thought I will share a few times a week books we are reading that we like.
Do Unto Otters: A Book About Manners
 by Laurie Keller is a wonderful book which teaches kids about manners in a very fun way. The central character is a rabbit who is worried about how his new neighbours, the otters, will treat him. So he gets advice from a wise owl about 'Doing onto otters' what you want them to do to you. I love the play on words, and the age appropriate humor.
I think it is relevant before start of school as classes may have new kids, or especially if your kid is going into a new school or class.
Try it and let me know your book suggestions!
Last 5 posts by Khushi