Masoom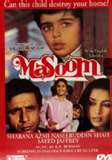 Review
Have you ever seen a movie or read a book twice and has the perspective changed completely?
Originally based on Eric Segal's Man, Woman and Child, Masoom is one of those rare movies which is much better than the original version.
The story is based in Delhi. D K Malhotra (Naseeruddin Shah), an architect, and his wife Indu (Shabana Azmi) are happily married with two adorable daughters – Rinki (Urmila Matondkar) and bubbly Mini. One doomed day, a bombshell drops on their life when they discover that DK has a child from an extra-marital affair. The child's mother (Supriya Pathak) has passed away and DK has to take care of his son from now on. Against Indu's irresistible strong will, DK brings Rahul (Jugal Hansraj) home. As the days pass by, the three children get along well together but Indu rejects every attempt of Rahul's to reach out to her. Though the children can feel the tension in the house, they are unable to understand the reason. As DK sees the arrangement not working out, he decides to put Rahul in a boarding school. Rahul gets to know the truth about his real father. Shattered and shocked that his father can't accept him, he runs away. In the final moments of the film, Indu realizes Rahul's trauma and accepts him into the fold and the family lives happily ever after.
I first saw the movie when I was a little over 7 years old. I simply adored Rahul in the movie and instantly felt a sisterly love for him. Jugal Hansraj shows amazing maturity, as a hapless child, an insecure offspring who is looking for his father, and finds himself in the home of some strangers where the aunt rejects him at every step but the uncle loves him unconditionally. He is so cute and innocent that my heart went out to him and wanted to implore to Indu to accept him. Back then, I couldn't understand Indu Malhotra's (Shabana Azmi) insolent behavior towards the young boy, especially when he was so adorable. I almost hated Indu. When I asked my mother questions regarding such discourteous behavior, she had replied perhaps it was because the boy was naughty.
Really? I had thought. The boy did not display any such behavior; I had told my mother in protest. Well all is well, that ends well, my mother had said to satisfy me. However, the movie lingered on in my mind because of the songs Lakdi Ki Kaathi and Do Naina which my mother often sang to lull me into sleep. So the puzzle remained for many years until I saw the film again as a grown up woman.
Though Rahul remained my favorite character, this time I felt sympathy for Indu Malhotra (Shabana Azmi). There was no hatred. I could now understand how difficult it must be for a woman to accept a child that her husband has fathered with another woman. Shabana Azmi underplays her character without flaw, her anger, anguish, and dilemma. She has portrayed the complex trauma of a woman, who can't accept her husband's infidelity and Rahul's presence in the house is a constant reminder of it. At the same time, she can't leave her husband for the sake of the future of her own daughters and because she still loves him. Being a mother, she also has some sympathy for Rahul but doesn't want to express or accept it in front of anyone.
Naseeruddin Shah shows impeccable balance, as a husband who doesn't want to see his house brought down and at the same time, doesn't want to do any injustice to his illegitimate child. He watches his home being torn apart, and his life turned upside down, both personal and professional, and his helplessness while talking to his friend Saeed Jaffrey in the farmhouse is very touching.
I watched this movie, yet one more time, the other day with my four year old son. I could see my son having similar emotions and reactions that I had close to twenty eight years back. But the fact that I enjoyed it just as much when I was a child, or rather my son also loved it, despite the change in time and generation, speaks volumes for Shekhar Kapur the director, for making a film that is both meaningful and entertaining.
Last 5 posts by indrani