Mom in Question – Indrani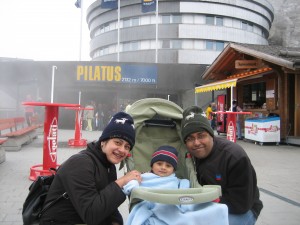 Name: Indrani Dasgupta Goyal
Profession: Home Maker
Kids:  One son, Shaamak, 22 months
Born and brought up: New Delhi, India
Countries lived in:  India, Singapore and US
Cultures in my life: Indian, Chinese, American
What were some of the most interesting things about life in the US, Singapore and India?
Singapore shares a cultural affinity with India. So it was basically home away from home. But its a lot like the US in terms of discipline, infrastructure and ettiquates. So it was best of both the worlds.
 Initially it felt like US was on another planet. But slowly it started growing on us. I loved driving, California weather was just amazingly wonderful, people were friendly and always greeted with a smile, the libraries were so well stocked, I loved sitting in a cafe and watch the world go by. But most importantly I was impressed with the fact that the entire country is handicapped and stroller friendly.
What surprised you about your birth experience in US? Was it different from what you expected?
The entire experience was enjoyable. Women are more aware of what's happening, what to do and what not to do. I loved the fact dads are thoroughly involved in the enire pregnancy. People in general are very courteous to expectant moms. There's a 24X7 helpline to ask any doubts that might creep into your mind anytime of the day. I loved shopping for my angel before his arrival, so that we were ready to welcome the baby rather than running for stuff.
What makes life interesting when raising your son in a multicultural environment?
 Its a learning experience for all of us. We get to make friends from all nationalities, learn and enjoy different cultures and customs and way people live. Today I have friends who are Indian, Chinese, American and European. It enriches our lives that much more.
Festivals you celebrate? Durga Pooja, Diwali, Rakhi, Christmas, New year, and Lunar New Year (Chinese)
 What are some of the biggest pluses and minuses of being a stay at home mom?
Pros: I witness and enjoy every bit of my son growing up; I tell daddy what Shaamak did at home, in the park and at Play club rather than hearing it from some one else. Sharing his joys and victories in small things and encouraging him when he is disappointed.  Being a  part of all his acitvities and mischiefs.
Cons: Stay at home moms are not respected in India, so at times its very frustrating when people comment "Oh you must be so bored and frustrated staying at home, having so much time on your hand. Why don't you do something?"
Three things you would do to change the world?
Eradicate jealousy, bitterness, rat race amongst adults, 

Hunger and illiteracy among children.

M

ake the world more eco friendly.  
 Fun activity you do with kids?
Coloring with crayons and water colors, puzzles, swimming, making up stories at bed time, playing peekaboo & cricket.
Fun activity you do for yourself?
Reading (last one Unaccustomed Earth), listening to music and watching movies.
Last 5 posts by Khushi