Mom in Question – Monika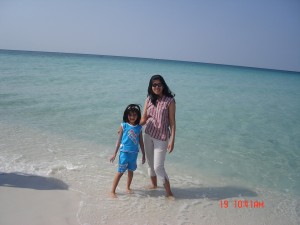 Profession: IT
Kids:  Tisha (7) , krish (3)
Born and brought up in: India
Currently base in: India
Countries lived in: USA, India
Cultures in my life: Indian, American  
What did you find most interesting about living and working in the US?
I lived and worked in US for almost 9 years and thoroughly loved and enjoyed my stay. Very impressed with the infrastructure, discipline and work etiquettes.
It was a wonderful experience with multitudes of great memories.
For me, the work atmosphere was very relaxed and comfortable, the hours were very flexible. People in US work with great attitude, work ethic and abilities.
Did you work in India or anywhere else before coming to the US? What did you find different after going back?
I worked in India for a year as a Computer Teacher.  It's an entirely different feeling when you teach little kids. I loved it
What surprised you about your birth experience in the US?
When they allowed my husband in the delivery room !!
When you returned to India after a few years in the US, what were some of the things which struck you as being new or different or surprising?
New – Saw Big Shopping Malls !!
Different and Surprising – Even in India life has become very fast . Earlier the interaction with neighbors used to be very informal , but not any more.
What makes life interesting while raising multicultural kids?
Kids get to know the best of both the cultures.
Festivals you celebrate?
Diwali, Lohri, Holi, Navratri, ThanksGiving, Christmas ..
Three things you would do to change the world?
Wipe out Terrorism,
Wipe out Corruption,
Stop Hunger and give best education possible to everyone.
What do you enjoy doing with your kid?
I love to read bed time stories,  play tag , go shopping with my daughter, play hide & seek .
What do you enjoy doing for yourself?
Watch Bruce Willis Movie and GH . 
And ofcourse, Shopping !!
Name: Monika Jethi
Last 5 posts by Khushi