Mom in Question – Sanjukta

Name:  Sanjukta Banerjee 
Profession: Lecturer/ Department Coordinator & Graduate Studies Coordinator at a leading University.
Kid: 1
Born and brought up:  Calcutta , India.
What did you find most interesting about the US when you came here? 
Freeways and how fast you can travel long distances, the natural flow of communications that one can initiate.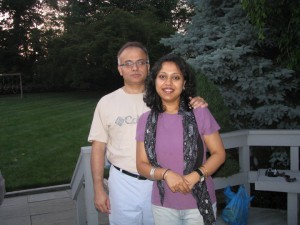 What struck you most when you started working here? 
 Professionalism and devotion towards job.
How would you say teaching differs between here and in India? 
In India an undergrad course or a master's course (at least 13/14 years back) were very much dictated by the syllabus which was set by the University. Here courses are very independent and faculty has the full liberty to create their own syllabus.
Students have the liberty to choose their own thesis and their own adviser.
How has being a mother changed you as a person?
Being a mother is the best thing in my life. It has changed my life in many ways; I have become more patient, has become less judgmental about people, more broadminded, methodical and organized. Most importantly, I have become a strong willed individual and am not afraid to take challenges. My ultimate motive is to make my daughter have a mother around her who she will look up to as her role model.
What is the most important thing that your daughter has taught you?
Although my daughter is seven years old, she is matured for her age; I have learnt several things from her, some directly others circumstantial. Most important thing I would say is that she has helped me understand that it's not necessary to crib about situations, but to find solutions.
 What festivals do you celebrate as a multi cultural mom?
Durga Puja, Lakshi Puja, Kali Puja, Diwali, Thanksgiving, Christmas, Saraswati puja.
 Tell us something that you would like to do, but cant because of your busy work schedule. 
Would like to spend more time with my daughter and husband, travel and pursue another master's degree on socio cultural linguistics.
How do you mange both – the extremely social lifestyle as well as a job that gives back to your culture?
Well, part of my job takes me back to my culture: teaching Bengali language to non heritage students.  The only way I can manage both with equal enthusiasm is because I maintain a routine and I organize and plan everything ahead of time. I don't like 'surprises' when it comes to managing time and work. 
What do you miss most about India?
Family and the country itself!
Fun activities you do with your family
Eating out, partying, library visits, and picking out books at Barnes and Nobles, Movies and just talking to each other.
Fun activities you do for yourself?  
Movies, reading and quiet time!
Last 5 posts by Bloggermoms