Mom in Question – Sarmila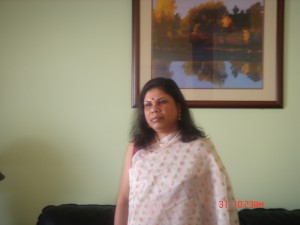 Name: Sarmila
Profession: Dietitian/Nutritionist
Kid (s): Two Boys
Born and brought up in: Kolkata, India
Currently based in: Chicago, IL
Countries lived in: India & US
Cultures in my life: Totally Indian cultures in my life as well as in my family.
When did you come to the US? What did you find most interesting about living in the US?
Came to US almost 15 yrs back. It is a well structured country, people here are friendly. I am in Chicago for a long time; here we have friends, and feels like we are one family.
What surprised you about childbirth in the US?
Child birth in this country is a most surprising event in US. I should tell to every mom who is here and pregnant for the first time, they will certainly have a very good experience like me. I can compare between our country and here, because I worked in reputed nursing homes in Kolkata, but the main difference one can feel is the behavior of the Physicians and Nurses. Here they are friendly, they care a lot all the time and many things to say, the atmosphere of the hospital is also so good. When my elder son was born, no one was here in this country, I was young,  but believe me, I was so comfortable with them, my husband was with me in the labor room, and the most unique thing we will never forget that he cut the cord of my son…That was amazing!  
What makes life interesting in terms of raising kids in a multicultural environment? (Positives and challenges)
Yes, raising kids in multicultural environment, the kids get all kinds of friends from all Nationalities, that is the real good side, they come to know lot of cultures, but some challenges are there too, we have to make sure that the kids doesn't become totally of this culture, because we go to our country all the time, they should learn their parent's root, and another challenges most parents face is the language. But to my opinion, once the child gets to know everything, the first thing you have to teach them that you have to speak our mother tongue at home, they will understand that in a certain age when they know what is good and bad, they will realize that yes, our parents did a great job to teach the mother tongue.
How do you make sure you children balance both cultures?
My kids can balance both the cultures, that way I am a proud mom, from their childhood they know that they have to speak Bangla at home, and now they are grown ups, love to go to Kolkata, have fun with their cousins, grandparents, uncle, aunts, love to ride the bus, auto, rickshaw, as well as the Boat ride on the Ganges. Here also they can adjust in the school, with their friends and the teachers. 
How has the US changed in terms of when you first got here and now? How about India through your eyes?
US has changed a lot , when we came that time was at the peak of economical success, now the country is in a bad shape with the poor economic condition, lots of tension goes on in everyday's life. Through my eyes India always the best. It has also changed a lot, but the change is real good, to me if I could have stayed in India, I think it was a better living, because India is my all time favorite.
What are the major contrasts in terms of child rearing in US and India in your opinion?
Personally, I have not raised my kids in India, but what I hear or go and see every year, the parents face lot of challenges, especially in school, the kids have lot of pressure in their studies, competitions are tough, and they cannot get time to carry on with the extracurricular activities. These type of ongoing problems parents in India face while raising their kid. Here if you want to get a good grade, workloads are always, in spite of that the kids can have their fun time.
Festivals you celebrate?
Saraswati Puja, Nabobarsho (Bengali New Year), Durga Puja, Lakshmi Puja, Kali Puja, are the major festivals we celebrate.
Three things you would do to change the world?
Eradicate Jealousy, eliminate illiteracy throughout the world, and stop global warming
What do you enjoy doing with your kids?
I like to read books with my little one sometimes play how to do a quiz, with my elder son, I discuss different views, various topics, enjoy his recipes because he is a good cook and a foodie! Love to help with their regular study that is a good recreation for me too.
What do you enjoy doing for yourself?
Well, yes, I enjoy doing something for myself! I love listening to songs and music. Few hours in the morning I read magazines, study lot of various topics through the internet, enjoy reading recipes around the world and last but not the least I love to talk with my dear ones.
Last 5 posts by Khushi