Mom in Question – Sushmita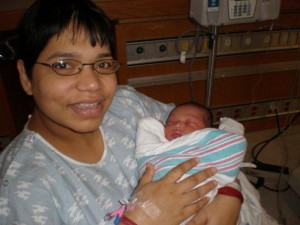 Name:  Sushmita Samanta
Profession: Accountant/Auditor
Kids: Son – Rishi – 2 years
Born and brought up: Munger/Calcutta, India
What did you find most interesting about the US when you came here?
Not sure!!!
What struck you most when you started working here?
I was surprised by the level of informality in work place and the work hours. The way managers and staff members interacted with each other in a friendly manner was very refreshing. Also, the work hours (8-5) and that one does not work on Saturday in normal circumstances is great.
What did you find most surprising about your birth experience here?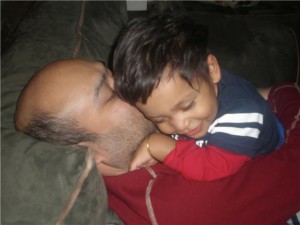 I guess, the fact that normal delivery is more normal than c-section and that even though you have an ob-gyn, he might not be the doctor delivering your baby.
Do you think that being a mommy changed you as a person?  If yes, what would you say are the changes? 
Oh yes, in more ways than one! I am amazed at the changes I see am constantly trying to make in our daily lives. For eg, trying to be more "Bengali" than I ever was. My mom gets shocked at how good my Bengali is now! Other instances are having more Bengali friends than ever before, wearing traditional dresses – sarees and salwar suits, celebrating Indian festivals, most importantly, Bong festivals, and getting involved in cultural events so that Rishi has the "Bengali" influence.
What festivals do you celebrate as a multi cultural mom?
Poila Boishakh, Durga Puja, Laskshmi Puja, Kali Puja/Diwali, Halloween, Thanksgiving, Christmas, New Year.
How do you balance work, kids and all the other activities you are involved in?
Honestly speaking, I have no idea how I do it! I just know that at the end of the day, it gets done. Of course, it does involve a lot of running around and sleep deprivation.
What makes life interesting when raising multicultural kids?
I am not sure, as Rishi is too young to understand the difference. I will probably have a better answer to this question in 2-3 years time.
What do you miss most about India?
My family and my friends, and most importantly "household help"
Three things you would do to change the world?
If I had time, I would probably do the following:
 Get more involved with associations that help children in 3rd world countries.
Try to create more awareness on child abuse.
Try and gather more funds and resources for educating kids in 3rd world countries so that they can have a better life.
Fun activities you do with your son
Taking Rishi to his soccer class, playing "tickle tickle" with him, reading books with him, and dancing with him.
Fun activities you do for yourself?
Watching t.v. and reading books.
Last 5 posts by Khushi