Mom in Question – Urmi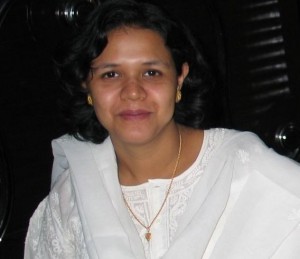 Name: Urmi Nair
Profession: Service, Working with an Asset Management Company of a leading bank for the last six years, work includes managing the Customer Service and Operations, proposition of Eastern India.
Kid: 1 Daughter, Juhi, 5 years 5 months
How do you think being a mom has changed you?
Being a mom has made me into a complete person and filled my life in a way I only heard mothers xpress but never really understood. I am a more kind, quick, perceptive human being than I was before my daughter's birth. Any kids cry now cuts me in a way that was not there before.
If you look back on your birth experience, what surprised you the most?
I had a Ceasarian operation of 4 to 5 hours. Yet the entire experience felt like it lasted for 1 minute before I held a pink tiny bundle in my hand. And there seemed no pain at all. Just the miracle in my hand.
What are some of the principles you try to follow in parenting?
Understand .. Empathesize … Appreciate…. and be constant. Love her and teach her to love others, be strong and teach her to be strong, be kind and teach her to be kind.
What do you do to balance your time at work and home as a working mom?
I work like mad and play like mad. That means .. when at work I give it my full attention do not carry baggage.. mental or electronic. Plus in an asset management industry weekends are off. So we plan what's for a Saturday the entire week and make it a real wonderful adventurous outing. Also on a working day the schedule I have (Thanks to a famous baby book .. which stated early to bed and early to rise are for children whose parents are around at that time.) is suited for our kind of family. The rest of the evenings post I return till sleeptime.. we play, chat, fight, work, have dinner.. and
then go to sleep. Unless she is unwell or on her vacation when the routine does not run good and ofcourse I change mine. The routine works like a clockwork also because I have awonderful mother in law and an amazing helper whom we call Masi in here. Both of them in their sixties and fifties respectively are wonderful with Juhi and does not let her feel lonely.
What makes life interesting as a multicultural mom?
From a small family with two uncles and their families and some branches … transition to a family of more than twenty five uncles and aunts and their families, then their cousin, my in laws cousin etc etc. People all across the world .. mostly Asia, each unique and wonderful in their own right.. its all so nice. We have people taking a fly through Kolkata just to drop in and say a hello and have some luchi and alu bhaja. So the biggest gain from the multicultural family to me is the wonderful colourful people.
Who has been the most shaping influence in your life?
Its my mother and my grand parents for their unbending support and sheer strength of will and also the unending love which anytimes overcomes requirements of  material benefits.
Which book or movie do you think impacted you most profoundly?
At times when at a bookstore .. a book just jumps at me .. as had Prophet and Alchemist. Life changing.
How would you say Kolkata has changed over the years?
Not for me. Remains my good old city
Which vacation spot have you enjoyed most over the years?
Darjeeling in monsoon for my honeymoon. Magic .. it here on earth!
Fun things you like to do with your daughter?
We have evening tea parties on the roof, counting the stars and singing any song that comes to mind,
Waking up early to catch a morning show of a kid's movie, good food at a buffet, buy some books,
Fabric Painting old dresses in the morning .. one she and one me, finger painting, vegetable painting.. any thing is wonderful..Putting up the radio and dancing to a thumping music, Visiting her favorite aunt or grandmother in a surprise visit with a gift she wrapped and possibly made..Baking cakes which we mixed together.. actually the list is endless..and evergrowing.
Fun things you do for yourself?
Walk , write a little, visit a favorite mall for some relaxed shopping and window shopping, read a book, share small everyday jokes with my husband that gets missed out in the rush..
Three things you would do to change the world?
I speak from my perspective of what's available here of course –
1. Dignified jobs to be made available for handicapped individuals – Keep some jobs for wonderful humans with a single disability – like I feel for a person without the gift of sight, his others senses are much more sophisticated like the sense of smell and taste.. So jobs involving these like that of tea testing, tobacco testing, wine testing.. could be left predominantly for them.
2. Explain the meaning of an orphan to our children – Make in mandatory schools or parenting groups to take kids in the growing age to have play sessions with kids who are at orphanages. I feel this will impact them in ways we have not yet started to imagine.
3. Make our kids understand that our home is one and thats our earth and humans are all essentially one :- Give each child a pet .. whether animal or plant and put it in their safekeeping. Our life is half lived. Allow to them to mix with a poorer or dirtier kid who speaks with a different accent. Its the kids who will be tomorrow.. path setters and breakers. Then instead of demanding for a barbie doll's dress because its old they will ask for a dress for their poor pal.
Last 5 posts by Khushi