Mom in Question – Zeenia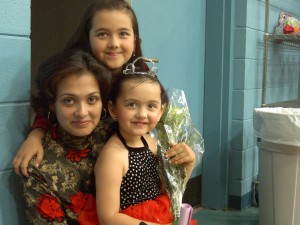 Zeenia Mukherjee Carpenter
Profession: Home Maker
Kids: Devaki (7) and Rebecca (3)
Born and brought up: Born in India. Came to US at the age of 16
Countries lived in: India and US
Cultures in my life: Hindu (my side) and Judaism ( husband's side) and of course all the Christian celebration from their schools.
What were some of the most interesting things you found about living and working here in the US?
Can't tell much about the working conditions in India since I was too young to work there. In the US at least for me the working atmosphere was very relaxed. No one ever asked me any weird questions about India. I had excellent rapport with my co-workers and my boss. Living here suits me very well since I am very free spirited and I think I would feel very suffocated with nosy people.
What surprised you about your birth experience here in US?
The whole process was a surprise !!! The new moms are expected to get back to the daily grind was extremely difficult for me.
What makes life interesting when raising multi cultural kids?
We get to celebrate so many festivals. It is like a year round party!!!
Festivals you celebrate?
 Durga Pujo, Diwali , Bhai fota , Honokaa, Passover , Christmas are just a few of them.
What are some of the biggest pluses and minuses of being a stay at home mom?
 Biggest pluses – Not missing any part of their childhood and when they tell  daddy let's ask mummy 🙂
Minuses- Seeing opportunities pass by , no sick leave or vacation ,  comments like " It must be very relaxing since you don't work "
Three things you would do to change the world?
 Stop hunger , stop wars and make everyone realize how important our senior citizens are for our future.
Fun activity you do with kids?
Swimming, playing tag , pillow fights and hiking.
Fun activity you do for yourself?
Work in my little garden or read a nice book.
Last 5 posts by Khushi