Mousse au Chocolat – Recipe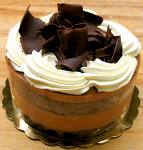 I am back with a new recipe, this time a cold dessert, Chocolate Mousse. Its really easy to make and the home made mousse do taste good as the ones in any good Cake and Confectionery Shop!!!
Believe me I had the opportunity of convincing my kid in having a home-made ice-cream. So this one is specially for all the kids……..
Ingredients
Plain Chocolate, broken into pieces: 225 gms

White Butter (unsalted): 125 gms (4 oz)

Caster Sugar: 125 gms (4 oz)

Double Cream: 142 ml (5 fl oz)

Chocolate Curls, to decorate
Directions:
Put the chocolate into a bowl with the water and rum. Place over simmering water and stir until smooth. Cool slightly.

Whisk together the butter and sugar until pale and fluffy, then beat in the egg yolks one at a time.

Add the chocolate to the butter mixture and beat for 5 minutes until light.

Whisk the egg whites until stiff in another bowl and fold into the chocolate mixture.

Pour into a serving dish or individual glasses and chill until set.

Whip the cream until stiff and decorate the mousse while serving and top the mousse with chocolate curls.
Last 5 posts by Malini