Moving……. The world through a pre schooler's eyes.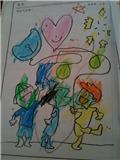 Shortly after my 3rd birthday, Dad & Mom sat with me in my toy room and said "Sweetie do you remember going to Singapore when your Mashi was living there?"
"No, I don't," I said.
"Well, we are moving there."
Dad went on explaining that his job is taking us there, how nice the place is going to be, how great the zoo and the bird park are. We are going to move into a new apartment and I'll be visiting Delhi during my vacation. I didn't know what that meant but the days that followed we were busy visiting relatives and friends at night, even those who I had probably never met, not that I could recall others except those whom we met regularly. My routine continued as usual with one change. Instead of Mom, my aunt used to pick me up from play school and take me along with her. At night when I returned, there were lesser stuff and few more boxes.
Then one day, Dad left. I thought he was going for one of his routine official trip but while leaving for the airport, he said to me "Aman, see you in Singapore in three weeks time."
I kept waiting for Dad to return but he never came back. He called me everyday though but I could not see him. My Dadai had become a star so I feared for my Dad. One day I asked Mom, "Has Dad also become a star?" She gave me a hug and said, "No honey. You talk to him every day. He is in Singapore and we'll be joining him shortly." Another vacation! Yippee!
Mom and I stayed at Dimma's place (my grandmother) and I enjoy living there. The day we were leaving for the airport, everyone cried except for me. I wondered why everyone was so sad. After all this is not the first time we were going for a vacation.  First few days, it was like any other holiday. We stayed in a nice hotel, we visited the zoo, Bird Park and the whole city looked so nice with Christmas decoration. But soon I wanted to go home, my home in Delhi. I've had a nice long break from school, now I need to go home. I cried and fumed but Dad & Mom said very patiently we were going to be here now.
Dad was right. We moved into a new apartment but it had very little things. Then one day, all my toys, books and my bed arrived. Even the furniture, clothes, pots and pans. All were in boxes. There were too many people opening the boxes and my room was chaotic. Mom had to work very hard; she could hardly spend any time with me, though she continued reading books for me and taking me to the play ground. One day I asked Mom, "Why did we come here leaving everyone? In Delhi, you had so many people helping you with the laundry, cooking and getting things from the market" Mom hugged me, and said, "The fact you realise is enough for me" Of course I do, because I don't get enough of you. Mom was quite worried that I did not like my new home.
But soon things got settled. I love my new room. I hated my first school here and then I was put into a new school. I love this school, all we do is play. I visit letter land and number land, farms and bird parks. I have made friends but I do miss my friends in Delhi. But I love the play ground here. Once a week, Mom takes me to the library and it has so many books. It even has a nice play area where I play while Mom sits with a book sipping coffee. Now that is something Mom & I never could do in Delhi.
Last wee, we went to Indonesia for a short break.  By the end of Day 2, I told Mom, "I want to go home." She asked me "where?"
"To my home in Singapore" I said. Mom sighed, a sigh of relief. I don't know why though!

bowling green ky
lakeland high school
405 freeway closure
walmart price match
strep throat contagious
Last 5 posts by indrani