Multicultural Childrens Books – What we read last week
The babe has been reading some wonderful books. Here are two that I really enjoyed.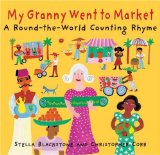 The first 'My Granny Went to Market
' by Stella Blackstone talks of the travels of an adventurous granny who travels around a world collecting souvenirs from each country she visits. Both the souvenirs and the illustrations give readers a flavor of the country she visits. There is also an element of counting as she collects ascending numbers of souvenirs from each place. The inside cover has a map of the world criss crossed with Granny's travel paths which the babe loved. Also, I kind of like the concept thats its the granny who is doing the travelling vs. being relegated to making cookies and giving gifts or hugs as is the case in so many kids books.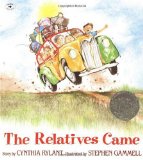 The second is called 'The Relatives Came'
and is by Cynthia Rylant. It talks of a summer when the relatives visited from far away. They pile into the house, filling it with talk, laughter and people. People sleep on floors, crowd out tables, share gossip. It reminded me so much of our childhood in India where relatives were more of a constant factor and summers were a time to get together with them. Its a must read for the adults if not kids 🙂
You can find some my posts on other  multicultural book ideas from before: The Legend of the Blue Bonnet, Yeh Shen – A Chinese Cinderella Story. Also some book recommendations on good books for toddlers and preschoolers and Neelam's suggestions (which I have tried and are really good) on 'Favorite Picture Books for Children'.
Last 5 posts by Khushi