Okra (ladies finger) with onions &tomatoes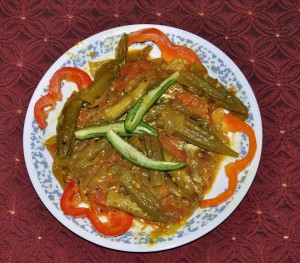 Okra  (ladies finger) with onions &tomatoes  
15/20 pieces ,Okra (slightly slit from the middle)
2 onions,sliced
2 tomatoes ,sliced
1 tsp finely  choppped fresh gingerroot
2/3 green chilli,finely chopped
methi seeds, mustard seeds, turmeric powder ,salt and suger    
Heat the oil in a pan., then put the methi seeds and mustard seeds on it.Add the onions and fry it,add okra cook it for 4/5 minutes ,then mix the chopped ginger,tomatoes ,turmeric,salt and chilli. Gently stir. The tomato itself is juicy, the water will come from the tomato and it will gently cook.
Add a pinch of sugar on it.
The delicious food is ready to eat.
Serve it in a  nice bowl.
This curry goes along with hot rice,ruti.
enjoy
Last 5 posts by roma