Paneer curry with pea and bell pepper……..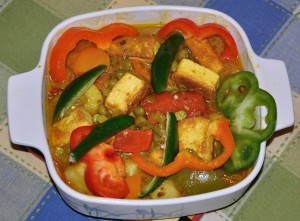 paneer-250gm,cut into small pieces
potato-2,cut into 8 pieces
tomato-2,cut into8/10 pieces
a handful of peas
green,yellow and red bell pepper (cut in cube shape)
green chilli-3/4
methi,turmeric,salt and suger to taste
Heat oil in a pan.fry the paneer and keep aside.
Again put little more oil in the pan and put methi let it splutter,add the potatoes,salt and turmeric,cook it for 4/5 minutes.Mix peas ,fry it. Then add tomatoes,bell peppers ,once they get soft  pour some water for the curry,let it boil for few minutes,add  chilli and a pinch of suger for taste.cook
serve it in a beautiful bowl.
This curry goes along with  warm rice,parota,ruti.
Enjoy this light and unique nutritious, delicious paneer curry,which is very easy to cook also.
Last 5 posts by roma