Pasta in white sauce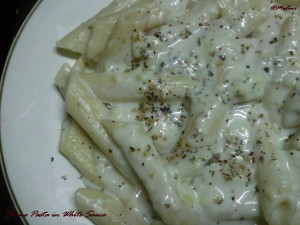 Pasta is a generic term for foods made from an unleavened dough of flour and water, and sometimes a combination of egg and flour. Pasta is a low fat food and a good source of folic acid, iron and numerous other nutrients, making it an ideal food as part of a healthy diet for children. It is usually served with sauce.
There are approximately 600 different shapes of pasta, like spaghetti (thin rods), maccheroni (tubes or cylinders), fusilli (swirls), and lasagne (sheets). Two other noodles, gnocchi and spätzle, are sometimes considered pasta.
Pasta is categorized in two basic styles: dried and fresh. Dried pasta made without eggs can be stored for up to two years under ideal conditions, while fresh pasta will keep for a couple of days in the refrigerator. Pasta is generally cooked by boiling.
How to cook perfect pasta:
Important Rule:  Pasta should be prepared just before serving it.   
To cook pasta properly, take a large pot (A too-small pot and too little water will make the pasta stick together and cook unevenly), for a pound (16 ounces) of pasta, you will require 4-6 quarts of water.
Fill the pot 3/4 full of cold water, cover the pot with a lid and bring to a fast boil.
Add salt (2 tbsp of salt per pound of pasta) to the water to enhance the natural flavor of the pasta. (Do not add salt until the water has come to a full boil)
Bring your water, with the added salt, back to a full boil (to prevent pasta from sticking together)
Add the pasta, all at once, to the boiling salted water, and keep the heat high to bring the water back to the boil as quickly as possible. (do not mix pasta types in on pot).
Gently stir the pasta with a wooden spoon (to prevent pasta from sticking to the bottom and the edge of pan) and cook the pasta, uncovered, at a fast boil. Frequent stirring helps the pasta to cook evenly.
Do not add any type of oil as it coats the pasta and keep the sauce from adhering.
You can follow the instructions as per package or generally pasta cooks within 8-12 mins.
Remember not to overcook pasta (Pasta continues to cook and soften even after it has been taken from the water), pasta should be tender but still firm when you eat it ("al dente", meaning "to the tooth" in Italian)
Once pasta has reached the "al dente" stage, immediately turn off gas heat / remove the pot from the heat.
Add approx 1/2 to 1 cup of cold water to the pot which lower the temperature of the water & stop the cooking).
Drain immediately into a large colander / strainer and shake well to remove excess water. 
As soon as the pasta is drained, remove from the colander and place it either in the cooking pan or place it in a warmed / preheated serving dish or individual serving bowls.
White Sauce:
White sauce, also known as Béchamel sauce, is used in a variety of dishes and is known as one of the mother sauces of French cuisine.
It is used as the base for other sauces (Mornay sauce, which is Béchamel with cheese). It is traditionally made by whisking scalded milk gradually into a white flour-butter roux (equal parts clarified butter and flour). Another method, is to whisk kneaded flour-butter (beurre manié) into scalded milk. The thickness of the final sauce depends on the proportions of milk and flour.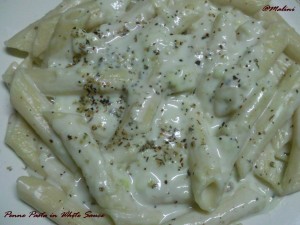 Recipe for Penne Pasta with White Sauce
Ingredients:
Penne Pasta: 1 pound / 450-500 gms
Water: 4-6 quart / 4-5 litres
For white sauce:
Ingredients:
Butter: 2 tbsp
Flour: 2 tbsp
Salt: 1/4 tsp
Milk: 1 cup
Garlic, crushed: 4 cloves
A pinch of Nutmeg powder & Pepper to taste
Chives / Parsley, finely chopped: 2 tbsp
Method:
Here are the steps to prepare a basic white sauce:
In a heavy bottomed saucepan, melt butter over low heat. Add crushed garlic and saute for a minute.
Blend flour and add salt, cook over low heat, stirring, for 3-4 mins, stirring continuously (remember not to brown the flour).
Remove from heat and gradually add milk, stirring constantly until well blended (ensure lumps are removed completely).
Return to heat and continue cooking slowly until the sauce is smooth and thickened. Add nutmeg powder, crushed black pepper and mix well.
Prepare the penne pasta by following the instructions stated above or as per packet instructions.
To serve: Warm the white sauce a little and pour on the pasta. Sprinkle oregano & thyme and chopped chives / parsley. Serve hot.
Tips:
You can also add 4 to 5 tbsp of grated cheese to 2 cups of white sauce for a rich taste.
You can also add vegetables like beans, broccoli, peas, bell peppers, sweet corn and even shredded chicken for a whole meal.
Last 5 posts by Malini