Pasta with Chicken and Red Pesto Sauce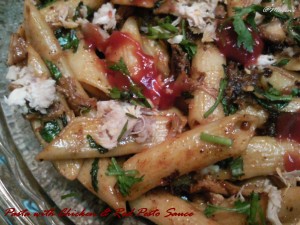 Pasta with Chicken and Red Pesto Sauce
A delicious and easy pasta recipe with penne pasta tossed with red pesto sauce, sprinkled with Parmesan cheese and garnished with fresh basil.
Penne is a popular ingredient in several pasta salads and traditionally cooked to al dente (to the tooth) and served with pasta sauces like pesto and marinara. Generally penne comes in two main varieties: "penne lisce" (smooth) and "penne rigate" (furrowed / pasta with ridges).
Pesto is basically a paste of basil, garlic, pine nuts and cheese, commonly used on pasta. Pesto can be either green (original with basil leaves) or red (with sun-dried tomatoes or red bell peppers) varieties.
Red Pesto Sauce
Ingredients:
Sun-dried tomatoes, drained & chopped: ½ cup
Fresh basil: 3 cups
Garlic cloves, peeled and chopped: 3
Fresh Romano cheese, grated: ½ cup
Pine nuts: ½ cup
Olive oil: ½ cup
Lukewarm water: ¼ cup (as required)
Lemon juice: 1 tbsp (optional)
Salt: ½ tsp
Black pepper, freshly ground: ¼ tsp
Method:
Blanch the basil leaves in hot water and immediately put basil in ice water (Ensure that basil leaves are completely cooled). Drain and squeeze water from basil leaves.
Drain and chop the tomatoes. In a food processor / blender, add the chopped tomatoes, basil & chopped garlic and blend until the mix is a little coarse (Add water if necessary).
Add the grated cheese, pine nuts and half the oil (¼ cup) and blend well (Scrape the sides of the blender).
Add salt & pepper and the remaining oil (¼ cup) and blend well to form a smooth paste.
Pour the pesto sauce in a bottle and keep aside.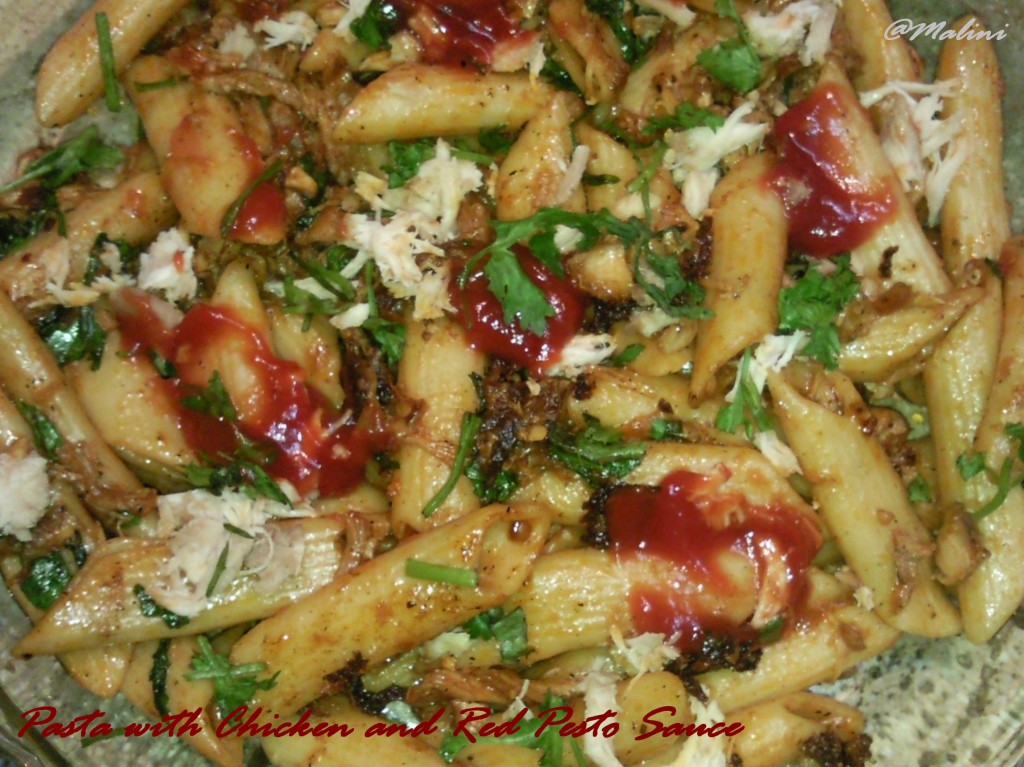 Pasta Recipe:
Ingredients:
Penne Rigate pasta: 16 ounces / 500 gms / 2 ½ cups
Olive oil: ½ cup
Garlic cloves, peeled & crushed: 2
Grilled chicken, shredded: 1 cup
Red pesto sauce: 3 tbsp
Olives, halved: 2 tbsp
Salt and Pepper to taste
Red wine (optional)
Feta cheese, crumbled: 3 tbsp
Parmesan cheese, freshly grated: 3 tbsp
Fresh basil leaves, chopped: 3 tbsp for garnish
Method:
Bring a large pot of lightly salted water to a boil. Add pasta and cook for 8 – 10 minutes or until al dente, drain and return to pot. Keep aside.
Heat oil in a skillet over medium heat and saute the chopped garlic for 2 minutes.
Add the pesto sauce, olives, crumbled feta cheese, a couple splashes of red wine (optional) and simmer for 8-10 minutes. Season with salt and pepper
In a bowl, pour sauce over the cooked pasta, add shredded chicken, lightly toss and mix well.
Transfer the pasta into a serving dish, sprinkle parmesan cheese, garnish with basil leaves and serve immediately. Enjoy!!!
Tips:
You can use readymade / commercial pesto available in the market.
You can substitute pine nuts with cashew nuts or walnuts.
Add boiled vegetables of your choice to the pasta to make a wholesome meal.
dell coupon code
citibank sign on
best web browser
pulmonary embolism symptoms
free printable grocery coupons
Last 5 posts by Malini