Preschool Fathers Day 2010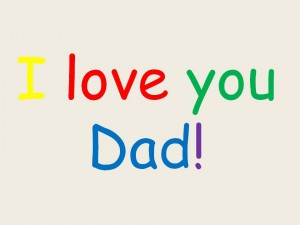 Fathers day 2010 is June 20th . Preschoolers are just the right age to begin understanding fathers day and participating in celebrating it with dads. Here are some ideas to get you thinking:
Hand Print Art for Office: Use the friendly finger paints or other paints to get the kids to do a collage of hand prints in different colors. Then frame it in an elegant leather or other office worthy frame for a splash of color in dads office.
Write it out: As preschoolers are learning to recognize words and alphabets, write 'I love dad' on funny surfaces. Get your preschooler involved in thinking of funny places to write it and take photographs. Such as on the sand on a beach or sand box, on foam on the wind shield of the car, with leaves or sidewalk chalk on the drive way. Then take photographs and frame the collage in a good frame for dad.
5 words to describe dad: Dad will be touched by a 5 word appraisal by the kids. Get the kids to speak out 5 words describing dad and write it on a card, or color it with large letters on a poster to put up on Fathers day.
My Adventures with Super Dad : Get your preschooler involved in writing a book (a simple home made printed out or written up book, bound by staples or string will suffice) of their adventures, real and imaginary with Super Dad. If you are technologicall savvy, you can even make a movie from videos chosen by your preschoolers and captions and voiceovers provided by you both.
Dad Q and A: Make up a list of 5 questions on dad, such as 'What does dad like most', 'whats dads favorite food', 'What makes dad grouchy' and write down your preschoolers answers. Then make it into a poster, or type it up, print it and hang it up on Fathers day. Or add it as dad's computer wallpaper on Fathers day as a surprise.
The preschool planner: Just leave it up to your creative preschooler to plan the day!
Dad Collage: Use dad and kid photos and old photos of dads to do a nice collage.
Things Dad Likes Art Work: Get your preschooler to draw things they think dad likes most or cut photos from magazines to make a collage.
 You can find some top gift ideas for Fathers day here and some ideas on top things to do on fathers day with kids and dad. An article on Fathers Day Gifts from Baby just added!
Last 5 posts by Bloggermoms